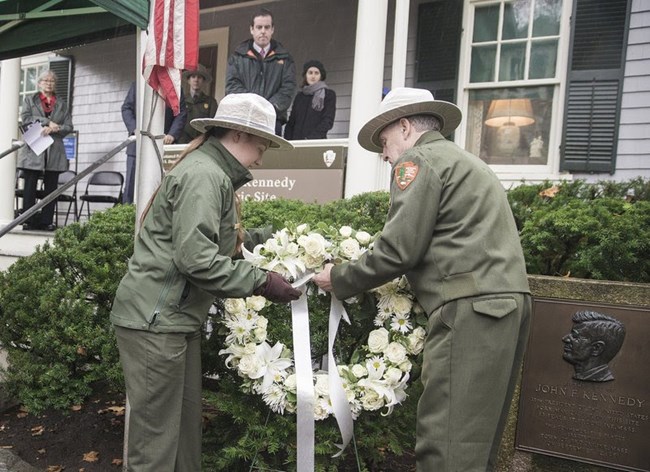 On November 22, John Fitzgerald Kennedy National Historic Site held a special Day of Remembrance Ceremony to commemorate the life and legacy of its namesake. The program included a wreath-laying with representatives from local religious institutions, speeches from local dignitaries and NPS staff, music, a color guard from the USS Constitution, and a 21-rifle salute and the playing of "Taps", provided by the Leatherneck Honors Society of Massachusetts.
Held on the fifty-fourth anniversary of his assassination, the event drew a large crowd. The ceremony also marked the final presentation of the JFK*100, a yearlong celebration of the centennial year of Kennedy's birth. "Heading into this year, we weren't really sure what to expect. We had inquiries a year in advance, asking what special activities would be held to honor President Kennedy", said Supervisory Park Ranger Jim Roberts. He continued, "We prepared for increased visitation by starting our season early and by being open daily through most of the summer. The site saw a twenty-five percent increase in its yearly visitation, so it turned out to be a busy year indeed!"
Lead Park Ranger Jason Atsales remarked, "What was really fantastic about 2017 was that we engaged with the community and our visitors in different ways. The staff rolled out new exhibits, a new Junior Ranger book, a living history and foods program that engaged roughly 500 elementary and middle school students, and helped create the first film ever made specifically for the site."
President Kennedy once said that, "A nation reveals itself not only by the men it produces but also by the men it honors, the men it remembers". As visitors assembled on November 22 to honor and remember JFK, it is clear his fascination among the public remains strong.