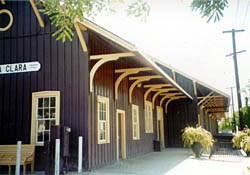 Every community has its own history, and has weathered the tides of change. Santa Clara is no different. The transformation of Santa Clara from an agricultural town to a modern metropolitan city began in the 1950s and continued through the rest of the 20th century. As farms disappeared, one by one, residential subdivisions moved into the spaces that orchards occupied.
Santa Clara has experienced growing pains similar to many other cities. With urban sprawl, businesses and residents migrated to the fringes of the city. Santa Clara's downtown area experienced a significant decline during the last half of the 20th century. Growth and redevelopment have also resulted in many of Santa Clara's historic places falling prey to the bulldozer.
The late 1960s saw one of the City's more controversial decisions, to demolish its original downtown in hopes of creating a new economic center. Using Federal Urban Renewal funds, eight blocks along Franklin Street were acquired and torn down. Several of the former downtown business owners who survived relocated to the new two-block Franklin Square and the six blocks were offered to new development. Not much happened and it took until 1987 to develop the last parcel.