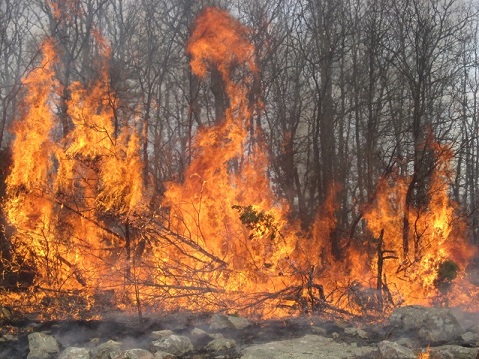 Prescribed burning in the Ozarks is for the birds, but it is also for the elk, deer, wildflowers, pollinators, and the resiliency of the Ozarks to climate change. In recognition of the positive contribution that prescribed fire can make when applied wisely, the Wildlife Conservation Society, Rocky Mountain Elk Foundation, and National Wild Turkey Federation all made significant financial donations to facilitate the 1,836-acre Jerktail Mountain prescribed fire on lands owned by the National Park Service and Pioneer Forest.
In March of 2015 the National Park Service's Ozark National Scenic Riverways (ONSR) partnered with staff from Pioneer Forest and The Nature Conservancy to successfully complete the Jerktail Mountain prescribed burn. Pioneer Forest is the land management entity of the L-A-D Foundation, which is both a non-profit organization and the largest private land ownership in Missouri.
The L-A-D Foundation, founded by Leo A. Drey, is cherished by Missourians for its superb stewardship of its lands and its cordial invitation to the public to responsibly enjoy the many natural treasures that the Foundation owns. Most of the foundation's 147,000 acres are in the Current River watershed where they border more than 80 miles of the Ozark National Scenic Riverways.