Article
Prefabricated Homes
Houses have been built in one place and reassembled in another throughout history. Possibly the first advertised prefabricated home was the "Manning Portable Cottage" conceived in 1830 by London carpenter H. John Manning. This house was built in components, then shipped and assembled by British emigrants. Prefabricated homes were produced during the Gold Rush in the United States during the 19th century to enable California prospectors to quickly construct homes. Also known as kit houses, pre-cut houses, ready-cut houses, mail order homes, or catalog homes, they remained popular into the first half of the 20th century. Kit house manufacturers sold houses in many different plans and styles, ranging from simple bungalows to imposing Colonials. For a fixed price, manufacturers supplied the materials needed for construction of a particular house with the exclusion of brick, concrete, and masonry (such as would be needed for laying a foundation, which the customer would have to arrange to have done locally). One American company heavily invested in the kit house concept was Sears, Roebuck and Company. Sears Catalog Homes were ready-to-assemble kit houses sold through mail order by Sears. Sears closed their Modern Homes department in 1940. More than 370 designs of Sears Homes were offered during the program's 32-year history.

While Frank Lloyd Wright is best known for his unique, one-of-a-kind showplace homes, the architect also gave considerable thought to designing beautiful yet affordable homes. The degree of detail he brought to such designs as Fallingwater and Taliesen is also evident in the evolution of his "American System Built" (ASB) homes. Although not designated as National Historic Landmarks (NHLs), these simpler designs aid in understanding the breadth and reach of Wright's body of work. Wright began designing his own American System Ready-Cut structures with "prefabricated" construction integral to their concept in 1911. Here, however, prefabricated meant "ready-cut" parts, rather than whole wall units, cut to size and shipped to the site where they would be assembled. The buildings were often referred to as "prefab homes," but they really were not, since no part of the homes were constructed off-site. The lumber was cut at the factory, packaged along with all other components, and delivered to the work site for construction. The designs were standardized, and customers could choose from seven models. Wright's firm produced over 960 drawings for the American System- Built Homes project, the largest number of drawings for any project in the Wright archives. More than a dozen suburban dealers were licensed to sell ASB Homes. Wright designed more than three dozen different housing units from bungalows, to two-story houses, to duplex apartments.

Toward the end of his "Prairie" period, Wright began experimenting with modular poured concrete construction. This phase of residential design was focused in Los Angeles in the 1920s, and resulted in four "textile block" designs. The face relief patterns vary for each of the four textile-block projects. The method of construction consisted of casting three-inch thick concrete blocks on site in Wright-designed molds, next to and on top of one another without visible mortar joints. In all but one of the homes, steel reinforcing rods were run horizontally and vertically in edge reveals of the blocks, then filled with thin concrete grout, "knitting" the whole together.

Wright introduced his Usonian "Automatic" modular concrete homes in the early 1950s. "Automatic" was used to suggest that the owner might participate in the actual construction of the home, laying or even making the blocks. The Usonian Automatics advanced concepts he introduced in the 1920s with his textile block designs.

Wright's early block houses had wood roofs and later houses introduced ceilings suspended from concrete beams. He designed coffered blocks in a "waffle iron patterned" ceiling.
In 1954, Wright discovered that Marshall Erdman, who built Wright's First Unitarian Society Meeting House in Madison, Wisconsin (designed 1946, completed 1951), was selling modest prefabricated homes.

Erdman introduced U-Form-It prefabricated house kits to the residential construction market in 1953. Wright offered to design better prefabs, ones that he believed could be marketed for $15,000, which was half as much as Erdman was charging for his own version. Wright didn't do much on the project until late 1955, but by spring of 1956 he had final plans for three Usonian-type homes to be built exclusively by Erdman. The prefab package Erdman offered included all the major structural components, interior and exterior walls, floors, windows and doors, as well as cabinets and woodwork. In addition to a lot, the buyer had to provide the foundation, the plumbing fixtures, heating units, electric wiring, drywall, and paint.

Wright's association with Arthur L. Richards began in 1911 and lasted until 1917. Richards, a residential contractor who started his career in home building in 1904, joined forces with businessman John Williams to form the Lake Geneva Hotel Company, located in Wisconsin. Their architect of choice for construction of the new hotel was Frank Lloyd Wright. While working with Wright, Richards learned of Wright's new American System-Built Homes and in 1914, agreed to collaborate with him on the new venture. Once the legal papers were drawn up, Richards began construction on six ASB homes as demonstration models. Richards gained the exclusive rights to manufacture and distribute the homes. The Richards Company milled the lumber, cut it to specification, and packaged all the materials needed for construction, including plaster, paint, windows, hardware, and fixtures. The customer purchased a complete home, so in addition to the materials, skilled craftsmen also were provided.

The original six ASB homes built in Milwaukee by the Arthur Richards Company were added to the National Register of Historic Places in 1985. Located along West Burnham Street, it is the only known grouping of System-Built homes, and the only grouping of Frank Lloyd Wright homes that includes both duplexes and single-family dwellings. A local preservation organization, The Frank Lloyd Wright Wisconsin Heritage Tourism Program, Inc. (WHTP), whose primary mission is the preservation of the Burnham Street homes, has purchased the Richards Small House and one of the duplexes. Although the Burnham Street homes have the name "Richards" associated with them, Mr. Richards never occupied any of the homes. The designation is from Wright's designs and subsequent construction; the names have continuously been associated with these designs.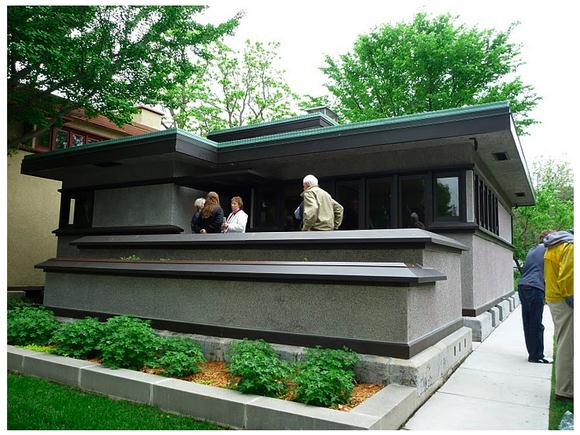 The Arthur L. Richards Small House was the first to be built on Burnham Street. Construction started in 1915 and was completed July 1916. The design may be as early as 1913.
The house faces south onto Burnham Street, with a terrace and planter at the facade. There are no gutters on the house, which has a gently sloped flat roof. Water is directed to a downspout at the chimney, which also has vents receiving air from soffit openings and a kitchen vent. This circulation system aided in cooling the house during the summer. The terrace, enclosed by a previous owner, was reopened and restored in 2009.
Funded partially through a 2006 Save America's Treasures grant, the Arthur L. Richards Small House was recently restored by the Frank Lloyd Wright WHTP. Restoration began in the fall of 2008 and was completed in 2009. Prior to construction, extensive research was done to come up with necessary details to ensure an accurate restoration. Included in this research was an examination of the exterior stucco. An earlier repair added about three inches of stucco on metal lath which obscured the original. Historical research supplemented by the removal of the later stucco repair, determined that Wright used a tinted finish stucco "seeded" with quartzite and granite giving it an iridescent finish in grey tones.
During the process of restoration, sections of the exterior walls were completely stripped down to wall studs to allow for insulation. The roof was similarly dismantled and rebuilt. The dark brown trim color was revealed during careful removal of later paint layers. Decorative pressed metal fascia with a triangular pattern was fabricated to replace deteriorated portions and given a painted finish in blue-green to match the original color.
The interior of the house had been remodeled only slightly, so restoration focused on the kitchen and built-in cabinetry.
It is believed that twenty-five System-Built Homes were constructed, but only about fifteen survive. These homes can be found in Wisconsin, Illinois, Indiana, and Iowa. The only extant grouping is in the Burnham Street District in Milwaukee, Wisconsin, although there is another large collection in the Chicago area.
---
Originally published in "Exceptional Places" Vol. 6, 2011, a newsletter of the Division of Cultural Resources, Midwest Region. Written by Mark Chavez.
Last updated: June 22, 2018