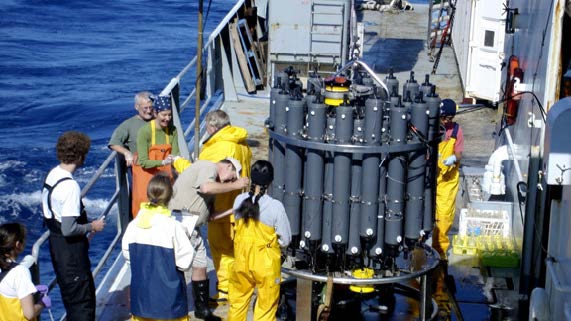 Of every 100 tons of carbon dioxide put into the air from burning fossil fuel to power our cars and factories, about 30 tons are absorbed by the ocean. The chemical changes from all that carbon dioxide are acidifying the ocean at a rate faster than has occurred at least over the past 50 million years of Earth's history and perhaps much longer. Scientists are trying to understand what these rapid changes mean for ecosystems on our Pacific Coast. That research involves an integrated monitoring system to track ocean carbon dioxide and pH changes, lab experiments to test how particular species respond to increased acidity and computer modeling to predict how effects on vulnerable species will ripple though the food web because of interactions between predators and prey.
These studies show that we are headed for some real changes in Pacific Coast ecosystems. Because of ocean circulation patterns, waters on our shores are naturally higher in acidity than other parts of the ocean, and increased carbon dioxide from people makes the situation worse. Many species, particularly those that make shells, are harmed by increased carbon dioxide, though a few species, like some plants, grow better. The picture of how all this will affect entire ecosystems is less certain, but a coordinated project between the NOAA Northwest Fisheries Science Center and the NOAA Pacific Marine Environmental Laboratory is attempting to piece it all together.
This modeling project combines data on atmospheric carbon dioxide inputs, ocean circulation patterns, marine chemistry, nutrient availability, climate information, and food web relationships to understand the consequences of ocean acidification. The model even includes information on Pacific Coast fishing fleets to explore how changes in fishing policy might interact with increased acidification. A key part of this project is to understand how local species may be directly affected by ocean acidification. Review of experiments relevant to species in our region shows particular vulnerability for shellfish, with many species showing poor larval survival in acidified waters because of problems in the formation of shells early in development.
Projects like this will increase our understanding of how ocean acidification is changing our ocean ecosystems. An even more challenging task is finding and implementing actions to address the negative effects of acidification. The obvious response is to address the primary cause of acidification by reducing emissions of carbon dioxide. As decades of effort to tackle this problem have shown, this is far easier said than done. However, the potential impacts of ocean acidification compel a careful look at all options, from small steps by individuals to major efforts by industry and governments. In addition to reducing overall carbon dioxide emissions, research shows that reducing other stressors in the marine environment, like excessive nutrient run off, may help mitigate the effects of acidification. Many of the other stressors are more readily addressed at a local level. Both the National Parks Service and the NOAA Marine Sanctuaries are an excellent source of information on these efforts. In addition, a report from the Washington State Blue Ribbon Panel on Ocean Acidification is the first concerted effort the nation to tackle both the science of acidification and potential solutions at a state level. The recommendations of the panel gave rise to the Washington Center on Ocean Acidification at the University of Washington, which dedicated to exploring regional approaches to a global problem.