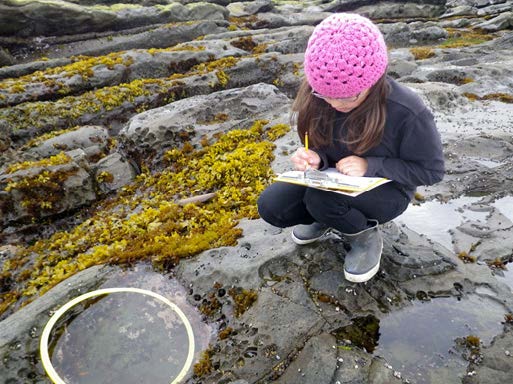 Integrating Traditional Ecological Knowledge and Western Science
Ocean Science, an award-winning partnership program of the Olympic Coast National Marine Sanctuary and Seattle Aquarium, brings ocean literacy to rural and Tribal communities on the outer coast of Washington State. Native people lived sustainably on the Olympic Peninsula for thousands of years through systems of practices and values that guided community sustainability and reinforced spiritual relationships with the environment. We work closely with many students who are members of peninsula tribes, so the integration of cultural traditions and ecological knowledge into an approach based on western science is critical to student learning, making it relevant to their daily lives. 
Traditional ecological knowledge (TEK) can be defined as the evolving knowledge acquired by local peoples through direct contact with the environment over many generations. It is specific to place, emphasizes complex connections between people and the environment, and is centered on community values and sustainability. "When the tide is out, the table is set" is a common saying among people of the peninsula tribes. Marine resources are central to the culture and livelihood of the tribes. Native American communities represent between 12 and 98 percent of the students in peninsula school districts (Wray 2002), yet many of the schools' curricula are not grounded in contexts that are relevant to issues affecting tribes today. The Ocean Science program serves students from the Makah, Quinault, Quileute, and Hoh tribes along the outer coast of Washington, where tribal resource managers implement modern scientific research and management practices. Students come into the program with a baseline of rich experiences and relationships to complex nearshore ecosystems, because many of their families have a direct connection to marine resources. They are fishermen, land and marine hunters, and subsistence gatherers, so our goal is to help students to understand western science practices while preserving traditional worldviews. We are at the beginning stages of implementing this integrated approach to marine science, and are moving forward to include this perspective in program activities and teacher workshops.
In the field component of the Ocean Science program, students conduct simple field investigations accompanied by tribal biologists on local beach field trips. We want to reinforce student connections to their local beaches, as well as having them explore their familiar environments in a new way through science inquiry and observation exercises. We work with teachers to use both native and western names for marine organisms, and to transmit traditional knowledge of the cultural significance of these organisms in their daily lives.
This kind of program development involves a long process of listening and learning from Tribal elders, community and cultural leaders, teachers, and students. Curricula are grounded in the specific cultural traditions of each community. We plan to include cultural teachers from each tribal school to join us on field trips and in classrooms, so we can connect Ocean Science curriculum with TEK. Through stories told by local elders we also examine population decline and other changes observed over time. Weaving these stories together with data based on scientific monitoring helps create vital connections, demonstrating how western science and traditional ecological knowledge can be integrated into marine conservation.