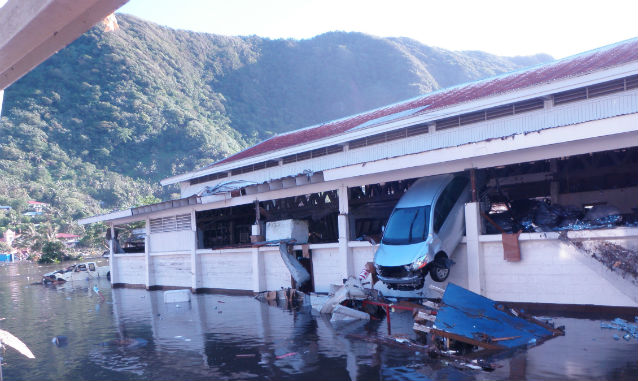 Tsunamis are nothing to take lightly, especially when one is coming your way. These acts of nature are caused by strong earthquakes on the sea floor that results in shock waves that are sent out in all directions from the epicenter. If the earthquake is small, little to no waves are caused. But if a major earthquake occurs, then a major tsunami event is sure to be the result.
On September 29, 2009, the people of American Samoa experienced a magnitude 8.1 earthquake that occurred 120 miles southsouthwest from American Samoa, about 13 kilometers below the sea floor. For most residents living inland, the major earthquake was a bizarre occurrence that didn't generate as much concern as it should have. But for the thousands of people who reside in and around the coastal areas, they were about to experience something unimaginable.
After the earthquake, villagers could see the ocean receding which was a tell-tale sign that something was wrong. Fifteen minutes later, multiple waves ranging in height from 15 to 20 feet struck certain coastal areas in American Samoa.
The National Park of American Samoa's visitor center and office in Pago Pago village were completely destroyed by the oncoming waves. One park volunteer was injured when her car was overturned by the waves while she was driving. The rest of the park staff were safe, however, one park volunteer lost his home and the cars of others were inundated.
Although the devastation claimed the lives of 34 individuals that day, the people of American Samoa were quick to provide assistance to those who had been severely affected by the tsunami. The National Park of American Samoa's staff, led by former Superintendent Mike Reynolds, helped with search and rescue efforts in hard-hit villages and provided assistance to villagers with debris removal and cleanup efforts. National park staff put aside their own grief and worries to aid those who were in need.
Local villagers were completely caught off guard because tsunamis hadn't been a natural occurrence in American Samoa for as long as anyone could remember. To ensure that island residents are prepared for future tsunamis, the American Samoa Government received financial assistance to setup a siren system throughout Tutuila Island to warn residents of possible tsunami threats. Villagers and park staff still remember the 2009 tsunami. This tragic event has served to strengthen the island community so that everyone knows more about tsunamis and to be prepared for the next one.