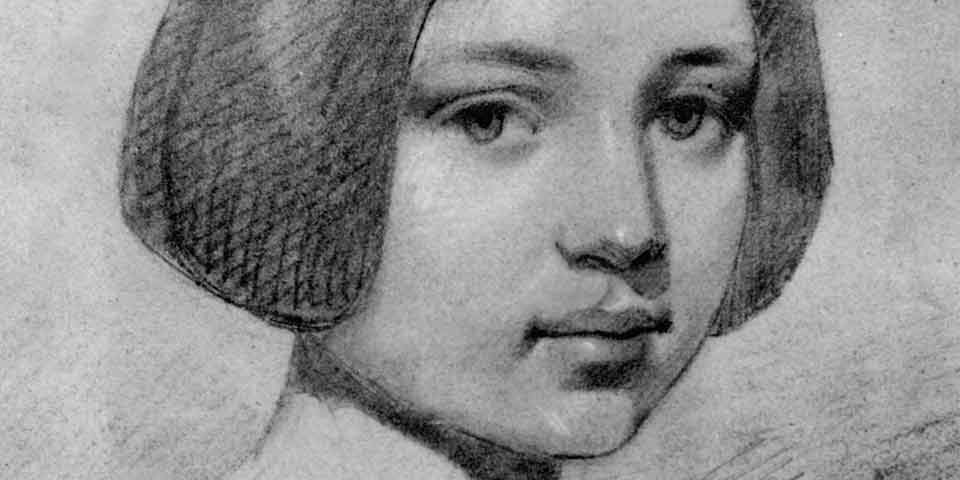 "I can only say to you that had I youth and health and beauty, I would live for you and die with you." Helen Whitman to Edgar Allan Poe
After Poe's death, many people were clamoring for a role in the drama and mystery of the situation. Previously silent neighbors made allegations about his drinking habits. Complete strangers hypothesized over the circumstances of his death. Perhaps most intriguingly, some women began to claim their places in his story and tell their version of his life.
Poe's Relationship with Sarah Elmira Royster Shelton
The first woman to do so was Sarah Elmira Royster Shelton, rumored to have been his fiancée at the time of his death. Poe had known Shelton since childhood, when they were neighbors and first took a romantic interest in each other. They fell out of contact when Poe left for University of Virginia and Shelton married another man. They did not speak again until 1848 after the death of Poe's wife Virginia. By that time, Shelton was a widow and Poe took the opportunity to ask her to marry him. She declined, but he continued to pursue her for several months. Poe wrote to his aunt, Muddy, to tell her that the two would be married in October 1849 but he died just ten days before the supposed wedding date arrived.
In Poe's letter to Muddy he seemed quite certain that he and Shelton would be married, but Elmira herself may not have been so sure. Rumors circulated that the two were not truly engaged. It's unclear if they were ever engaged at all, let alone planning a wedding.
Despite the rumors and Shelton's possible doubts, after Poe's death she took a very active role in his family. She wrote to the doctor who had attended to Poe in the week before his death asking to know every detail of Poe's final days. She mourned Poe's death as a member of his family. One newspaper cited Shelton as "perhaps the only person who could speak authoritatively upon the history of the last few months of [Poe's] life spent in the city of Richmond." To everyone following the widely-covered story of Poe's death in newspapers and magazines, she presented herself as his devoted fiancée.
Poe's Relationship with Sarah Helen Whitman
Elmira Shelton was not the only woman who connected herself more closely to Poe after his death. Before Shelton, Poe had had a fiancée named Sarah Helen Whitman. Poe met Whitman in 1848, almost a year before he reconnected with Shelton. Whitman was also a poet and the two traded passionate poems and letters. Poe pursued Helen Whitman relentlessly but Whitman worried that she was too old for him (she was nearly ten years his senior). In one letter, Whitman wrote to Poe, "I can only say to you that had I youth and health and beauty, I would live for you and die with you. Now, were I to allow myself to love you, I could only enjoy a bright brief hour of rapture and die." Their courtship continued for several months before Poe proposed to her. Like Elmira Shelton, Helen Whitman refused at first but Poe convinced her to accept his proposal. Shortly thereafter, Whitman ended the relationship when Poe continued drinking despite his assurances to the contrary.
Helen and Poe did not speak after she ended their engagement, and he died two years later. After Poe's death, Whitman challenged those who slandered Poe's character and criticized his writing. After reading a particularly defamatory biography of Poe published by one of his largest literary critics, Helen Whitman decided to take matters into her own hands. She wrote a much more complimentary biography of Poe, praising his life and literary achievements.
Poe's Relationship with Nancy Richmond
Poe mentioned the failed engagement in a letter to Nancy Richmond, the wife of a paper manufacturer in Massachusetts. Richmond met Edgar Allan Poe in July 1848 when he lectured in Lowell. Although their relationship remained platonic, Richmond and Poe experienced a mutual attraction. Poe called Richmond by the name of "Annie" and wrote his "For Annie" poem for her. After her husband died in 1873 and more than 20 years after the death of Edgar Allan Poe, Nancy Richmond legally changed her name to Annie. Annie Richmond shared copies of Poe's letters to her with the biographer John Henry Ingram. Ingram then published the letters against her wishes.
A Commitment to Poe's Legacy
Elmira Shelton, Helen Whitman, and Nancy Richmond shared a commitment to Poe's legacy. Whether this involvement stemmed from a desire to be involved in the drama, a conviction to protect Poe's reputation, or a love for him that strengthened after his tragic death, or all three, it is difficult to tell. But, we have these women to thank for some of the most compelling and personal records of Poe's life and love.