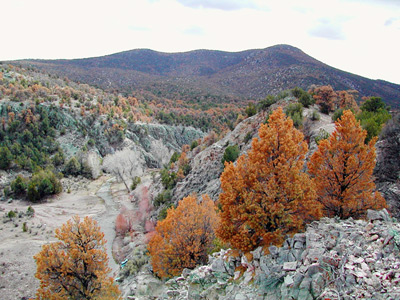 The Intergovernmental Panel on Climate Change (IPPC) reports with "very high confidence" that terrestrial biological systems on all continents are now being affected by temperature increases, resulting in earlier spring events, shifts in the ranges of plant and animal species, and longer thermal growing seasons, among other impacts (IPPC 2007). Warming temperatures and increases in severe drought events in some regions are likely to lead to increased tree mortality and forest dieback, which in turn affect other disturbance processes, such as fire, erosion, and insect outbreaks (Allen 2007).
These effects have been observed over the past decade in pinyon-juniper woodlands across the American Southwest. Millions of hectares of woodlands in the southwestern United States have been altered by severe drought conditions since the late 1990s (Allen 2007). Extreme heat and lack of moisture have resulted in widespread mortality of many species of grasses, shrubs, trees, and cacti. During 2002 and 2003, greater than 95% mortality of non-seedling pinyon pine trees was observed in study plots at Bandelier National Monument in northern New Mexico (Allen 2007).
On a landscape level, pinyon pines weakened by drought stress have become an easy target for mortality-causing insects like the pinyon Ips bark beetle (Ips confusus). Endemic bark beetle populations can increase dramatically when moisture-stress weakens large numbers of trees, over large areas. Without adequate precipitation or snowmelt, trees are not able to repel attacking bark beetles with increased flows of pitch. Once insect populations are large enough, they are able to successfully attack healthy trees, as well as those affected by drought.
The severe drought conditions of the past decade have also set the stage for wildfires like the aforementioned large-scale stand-replacing fires in Mesa Verde National Park, where old growth pinyon-juniper woodland is being replaced by post-fire shrubland (Floyd et al. 2004). Drought and warming temperatures can increase the flammability of live and dead forest fuels, cause snowmelt to happen earlier in the spring, and lengthen fire seasons (Westerling et al. 2006).
Projections from multiple climate models predict that surface temperatures in the American Southwest will continue to rise, and that annual precipitation in this region is likely to decrease (Christensen et al. 2007). Less is known about how regional precipitation patterns may be affected in the future by climate change-driven fluctuations in sea surface temperatures and atmospheric circulation patterns (Miller 2005).