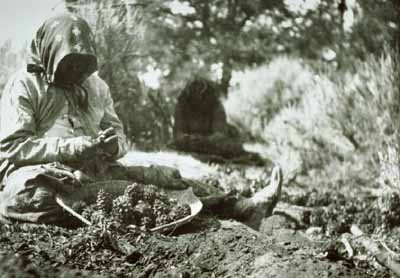 Native American Use of Pinyon-Juniper Woodlands
Wood and bark artifacts, such as digging sticks, cradleboards, arrow shafts, weaving tools, and bundles of juniper bark, provide evidence that, as long as 10,000 years ago, Paleo-Indian peoples were using the plants of pinyon-juniper woodlands for clothing, tools, house-building material, food, and medicine, and as fuel for heating, cooking, and firing pottery (Flint-Lacey 2003; Cartledge and Propper 1993). These ancient peoples relied heavily on pinyon pine nuts, which had significant nutritional value and contained proteins, carbohydrates, fats, and two amino acids that are present only at low levels in other regional indigenous plant foods (Litzinger 2003). Pinyon, juniper, and associated species of vegetation continue to be harvested and utilized by modern peoples today.
By A.D. 1300, after over 1,000 years of occupation, the ancient Puebloan peoples had abandoned the region of Mesa Verde, Colorado (Flint-Lacey 2003). Some evidence indicates that they may have depleted the pinyon-juniper resources near their settlements, and that deforestation may have been one of the factors that contributed to the abandonment of settlements in this area (Flint-Lacey 2003, Litzinger 2003). A dramatic decline in pinyon remains found at late Ancestral Pueblo archaeological sites suggests an intensive, widespread forest clear-cutting near the end of this period of occupation (Litzinger 2003). Archaeological surveys at Bandelier National Monument, southeast of Mesa Verde, revealed significant impacts to pinyon-juniper woodland resources during a period of peak occupation, from A.D. 1200 to 1500 (Gottfried et al. 1995). Flint-Lacey (2003) and Litzinger (2003) suggest that only small, remnant pinyon-juniper stands remained in the Mesa Verde region by A.D. 1300.