Phillis Wheatley's Journey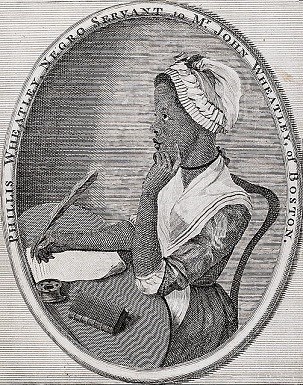 In 1760 Timothy Fitch, a wealthy merchant from Medford, Massachusetts sent one of his men to Senegal to purchase 110 "Prime Slaves." Seven-year-old Phillis Wheatley of Gambia, an area on the Western coast of Africa near Senegal, was one of the slaves traded in exchange for "2,640 gallons of rum and other goods." The ship that brought her to America was named The Phillis and was a much smaller vessel than the large British ships known to hold hundreds of human cargo. On its voyage to the colonies in 1760, The Phillis carried 95 slaves; however, illness, exhaustion, disease, and suicides took a toll during the eight-week crossing of the Atlantic. Only 75 Africans survived to reach Boston on July 11, 1761, during the peak of the slave selling season. Phillis was purchased by a Bostonian named John Wheatley as a gift for his wife, Susanna, who was mourning the death of their seven-year-old daughter. Susanna Wheatley was drawn to the "poor naked child" with a "slender frame" who had nothing covering her but a "dirty carpet." The child was purchased by the Wheatleys, stripped of her African identity, and renamed Phillis after the slave ship that brought her through the Middle Passage to America.
While enslaved, Phillis was afforded some rare opportunities. At a time when slaves were strongly discouraged from being literate, Phillis was allowed to learn to read and write. The Wheatley's children helped Phillis to learn English and Latin to study the Bible. As her skills flourished, Phillis soon began studying poets such as Alexander Pope and quickly developed into a poet herself. The Wheatley family would often flaunt Phillis' skills in front of company. In 1773, Phillis published her first book of poems, Poems on Various Subjects, Religious and Moral, becoming the first published African American woman.
Last updated: March 10, 2017