Each year in mid-April, thousands of people flock to historic Lexington and Concord and Minute Man National Historical Park to celebrate Patriots' Day. Patriots' Day is a special Massachusetts State holiday commemorating the opening battle of the American Revolutionary War, April 19, 1775.
The holiday (Officially observed on Monday, April 16, 2018), and the entire weekend, is celebrated with parades, reenactments and commemorative ceremonies.
For more information, please call (978) 318 - 7825 or e-mail us
Press and Media Inquiries, please contact Phil Lupsiewicz at (978)-318-7833 or e-mail us
More events will be added to this page over the next couple of months.
---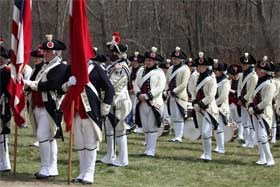 Saturday, April 7th
Bedford Pole Capping
Wilson Park, Bedford
10:30 a.m.
This ceremony features a march, displays of musketry, and fife and drum music. The main event is the raising of a tall wooden pole, which is climbed by a Bedford Minuteman and affixed with a red knitted cap.
Meriam's Corner Exercise
737 Lexington Rd, Concord
1:00 p.m.
Minute companies, fife and drum, and the Concord Independent Battery commemorate the fight at Meriam's Corner. There will be musket and cannon firing and fife and drum music.
Paul Revere Capture Ceremony
200 North Great Rd, Lincoln
3:00 p.m.
The Lincoln Minute Men observe the historic capture of Paul Revere with a dramatic re-telling of Longfellow's famous poem, fife and drum music and a musket fire salute.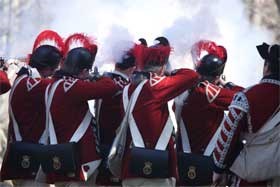 Saturday, April 14th
Battle Road Demonstration: "Parker's Revenge"
Battle Road Trail behind Minute Man Visitor Center, Lexington
1:00 p.m.
This event will feature hundreds of reenactors, musket firing and fast-paced battle
action along a hotly-contested stretch of the actual Battle Road of 1775.
Ample parking is available at Minuteman Regional High School, 758 Marrett Road, Lexington MA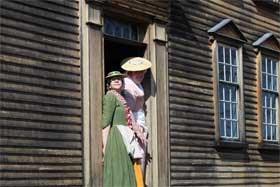 Sunday, April 15th
"Warlike Preparations" and the Search of the Barrett Property
Colonel James Barrett House (448 Barrett's Mill Road, Concord)
1:00 - 4:00 p.m. (British soldiers arrive at approximately 3:00 p.m.)
Visit the home of Colonel James Barrett and his family. Learn about the intense military preparations that took place in and around the home in the weeks leading up to the outbreak of war (April 19, 1775). Help make cartridges for the minute men. Keep watch for British soldiers and help hide the military supplies before they arrive!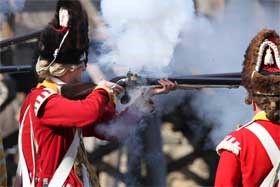 Monday, April 16th (Patriot's Day observed)
Lexington Battle Reenactment
Lexington Green, Lexington
5:30 a.m.
British and Colonial reenactors stage a reenactment of the early-morning battle.
Commemoration of the North Bridge Fight / Concord Parade
North Bridge, Concord
8:45 a.m.
British and Colonial reenactors will commemorate the "Shot heard round the world" with a battle demonstration. Immediately following, the Concord Patriot's Day parade will arrive around 9:30 a.m.
NOTE:
all of the roads in the center of town are closed to vehicles beginning at 8:30 a.m.
Visitor Center Hours:
North Bridge Visitor Center: 7:00 am - 5:00 pm
Minute Man Visitor Center: 9:00 am - 5:00 pm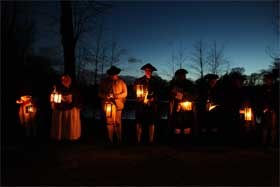 Wednesday, April 18th
Patriot Vigil
North Bridge
Lantern light procession: 7:50 p.m. (step off at North Bridge Visitor Center)
Ceremony at North Bridge: 8:00 – 8:45 p.m.
As darkness descends upon the North Bridge battlefield we invite you to come and reflect on the events of April 19, 1775 and the meaning of liberty. The evening ceremony will feature a lantern-light procession, poetry, music, and a recitation of the names of the soldiers who gave their lives on that "ever-memorable" 19
th
of April.
Please note, if you would like to participate in the procession at 7:50 p.m. we ask you bring your own enclosed candle lantern - no flashlights in the procession please.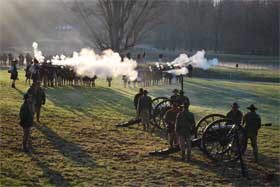 Thursday, April 19th

Dawn Salute
North Bridge, Concord
6:00 a.m
The Concord Minute Men and the Concord Independent Battery observe the
opening battle of the Revolution in a 21 gun salute with musket and cannon fire.

Visitor Center Hours:
North Bridge Visitor Center: 5:30 am - 5:00 pm
Minute Man Visitor Center: 9:00 am - 5:00 pm

Remembering the Ladies
North Bridge, Concord
10:00 a.m.
On April 19, 1775, when many men had gone in response to the alarm, women in some communities armed themselves and provided local security in the midst of the crisis. In commemoration of these brave Daughters of Liberty, the Molly Cutthroats, a living history group dedicated to the role of women in the Revolution, will fire a ceremonial volley of musketry from North Bridge.

Arrival of the Sudbury Militia
North Bridge, Concord
11:30 a.m. (approximately)
The Sudbury Companies of Militia and Minute will make their annual march to
North Bridge from the Town of Sudbury. They will fire three musket volleys off North Bridge as a soldierly salute.

Sons of the American Revolution, Henry Knox Color Guard
North Bridge, Concord
12:30 p.m. (approximately)
The Henry Knox Color Guard will fire three volleys from North Bridge in honor of our Revolutionary Forbearers.