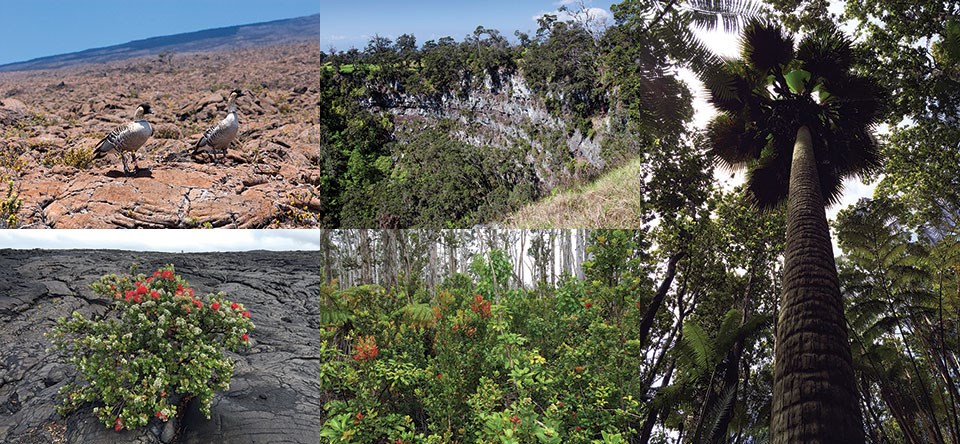 Figure 1 (clockwise from top left). Each of the habitat types pictured here was part of the modeling: (A) Lowland dry habitat where native vegetation is projected to contract. (B) Mesic habitat where species richness may decrease by half. (C) Wet habitat with plants that may contract to outside the park. (D) Wet habitat expected to transition to mesic habitat. (E) Dry habitat expected to become mesic and more favorable.
More than 1,000 native plant species exist in the state of Hawai`i, most of which are found nowhere else on Earth. Nearly one-third of these are listed as endangered or threatened by the US Fish and Wildlife Service. Hawai`i is also host to numerous invasive plant species that have spread across the landscape, often excluding natives that evolved in their absence. Because patterns of rainfall and temperature in the Hawaiian Islands are shifting and expected to continue to change into the future, managers at Hawai`i Volcanoes National Park want to know how climate change may shift plant distributions, especially in the park's highly managed Special Ecological Areas (SEAs), focal sites managed for perpetuating native plant communities and endangered species (Loh et al. 2014) (fig. 1). Under future climate conditions, these protected areas may no longer be suitable for the native species that currently inhabit them. In addition, park managers want to know if expanding invasive species may pose a threat to areas where native plants predominate, thus requiring additional management and resources. To address these concerns, we used bioclimatic envelope models to determine future habitat suitability. Bioclimatic envelope models are based on associations between climate conditions and species' occurrences to estimate the habitats suitable to maintain viable populations (Araújo and Peterson 2012).
Global climate conditions, including but not limited to increased global temperatures, changing circulation and precipitation patterns, increased ocean acidification, and sea-level rise, are changing (IPCC 2014). These changing conditions result in changes to physical, biological, and human-managed systems. Future climate conditions are projected with global climate models (GCMs) using atmospheric and oceanographic factors. GCMs have a coarse horizontal resolution of 100 km (62 mi) or more. Thus the typical horizontal resolution of GCMs does not adequately represent the small-scale topographic features and climate variation of the Hawaiian Islands (Giambelluca et al. 1986). Accurately characterizing diverse and complex island microclimates requires downscaling of the GCM grid to regional and local scales. Dynamic downscaling is a technique that uses the large-scale conditions provided by the GCMs to drive a local-scale meteorological model with a much higher resolution (Gutmann et al. 2012). The International Pacific Research Center (School of Ocean and Earth Science and Technology, University of Hawai`i at Mānoa) recently completed dynamic downscaling of GCMs for the present day and the end of the 21st century for the Hawaiian Islands (Zhang et al. 2012, 2016a, 2016b).
Changes in climate conditions will drive changes in species distribution, resulting in changes to the composition of plant communities (Price et al. 2012). A recent study by Fortini et al. (2013) examining climate-based species distribution shifts in the context of habitat area, quality, and distribution illustrated that many native Hawaiian plants may be particularly vulnerable to climate change, resulting in major range changes for much of the Hawaiian flora. Furthermore, Foden et al. (2013) and Fortini et al. (2013) have found the Hawaiian plant species most vulnerable to climate change also tend to be those that are most susceptible to existing nonclimatic threats (e.g., competition with or predation by invasive species, habitat loss due to changing land use), suggesting conservation challenges for these species will become increasingly difficult over time.
As a result of climate change and concomitant shifting habitat, resource managers at Hawai`i Volcanoes National Park have considered the need to adjust their current focal conservation areas to ensure that important species and plant communities continue to be protected over time. Intensive vegetation management at the park is focused on Special Ecological Areas (fig. 2), which are roughly configured to protect representative plant communities and important species by controlling the most invasive incipient and established invasive plant and animal species (Loh et al. 2014). Park managers therefore want to know if the current configuration of SEAs will continue to provide protection for focal plant communities and species of concern in the future. Likewise they want to know what new and possibly novel communities may occur in the future within, and adjacent to, the currently configured SEA boundaries. The answers to these questions are likely to suggest revisions to their strategies for future management and protection of the park's important plant resources.