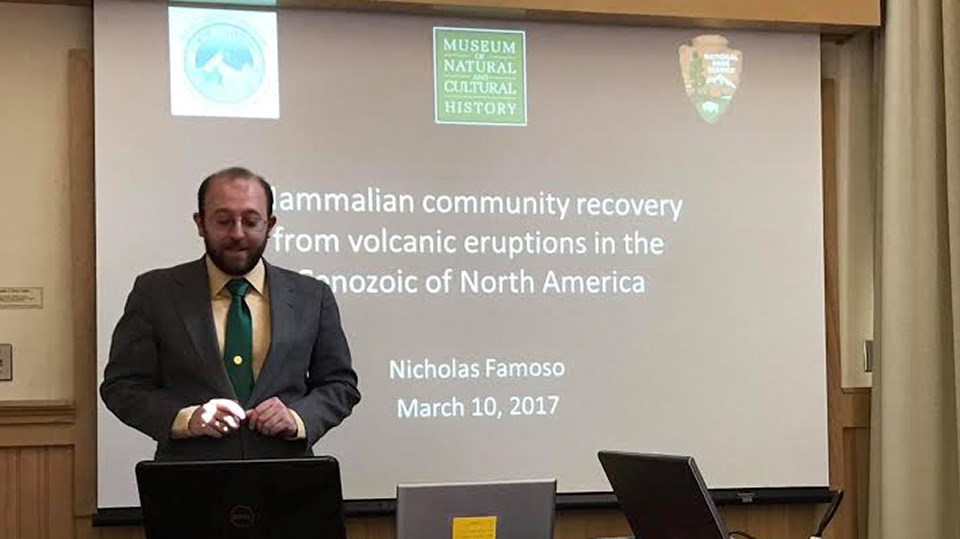 My name is Nick Famoso, and I am honored and excited to be the new chief of paleontology at John Day Fossil Beds National Monument and newest member of the NPS paleontology community. I am originally from southwestern Oregon and I first became interested in paleontology at an early age. My interest developed from visits to John Day Fossil Beds starting when I was about six years old. When I was old enough to attend overnight camps, I started to attend sciences camps at Hancock Field Station based within the Clarno unit of John Day Fossil Beds and ended up working for Hancock Field Station for six summers. I received my BS in Geology from the South Dakota School of Mines and Technology and worked with Dr. Darrin Pagnac on my senior research project examining the composition of horse populations in the late Miocene of the Great Plains. I spent two years working as a preparator for the University of Nebraska State Museum's Highway Salvage Paleontology Program collecting fossils from all over the state before I went back to graduate school. I received my MS in Geological Sciences from the University of Oregon where I worked with Dr. Edward Davis to investigate the processes that were driving the patterns of occlusal enamel bands in fossil horse teeth. While working on my MS, I took a seasonal paleontology position at Badlands National Park to help with quarry work at the Saber Site and prep work in their lab. I continued at the University of Oregon to work on my PhD in Earth Sciences with Drs. Davis and Samantha Hopkins where I investigated the processes driving mammalian community reassembly after volcanic eruptions. I also worked closely with the two previous John Day Fossil Beds paleontologists, Ted Fremd and Josh Samuels on this research, and even worked as a Geoscientist-in-the-Parks at the monument to get some of my dissertation research done in 2014. I investigated how the modern mammalian communities around Mt. Lassen, Mt. St. Helens, Mt. Shasta, and Mt. Rainier as well as the fossil communities in the John Day Formation recover from volcanic events. I finished my PhD remotely in March of 2017 after working for JODA for about five months.
Being the chief of paleontology at John Day Fossil Beds has been an interesting experience for me. Before this position, I only worked for the NPS for three months as a seasonal at Badlands National Park, so most of my time has been spent learning and navigating the NPS. As the chief of paleontology, I am responsible for the park's paleontological resources in all three units of the monument (Sheep Rock, Painted Hills, and Clarno) that cover about 45 million years of time. I am also the curator of the museum collections at John Day Fossil Beds, which includes over 15,000 natural history specimens, a majority of which are paleontological. There are many hidden gems in the collection which I am eager to investigate and publish, but John Day Fossil Beds still maintains an active field program which brings in resources from the National Park Service, Bureau of Land Management, U.S. Forest Service, and private property among other property owners. There has been a cooperative relationship between the National Monument and the Bureau of Land Management that has formally been in place since 1987 that exists to protect the fossil resources of the region. This relationship continues to be one of most important relationships at John Day Fossil Beds National Monument.
As a native Oregonian who enjoys spending time outdoors, I am looking forward to continuing my explorations of central and eastern Oregon. I like to keep active by playing and coaching softball, riding horses, hiking, traveling, and fishing. I also enjoy playing the violin and mandolin when the weather doesn't permit outdoor explorations. The region is sparsely populated, but boasts beautiful scenery and I look forward to exploring as much as possible in the future!