Park Paleontologist Retires

Article by John Isom, Park Ranger, Dinosaur National Monument
for Park Paleontology Newsletter, Spring 2017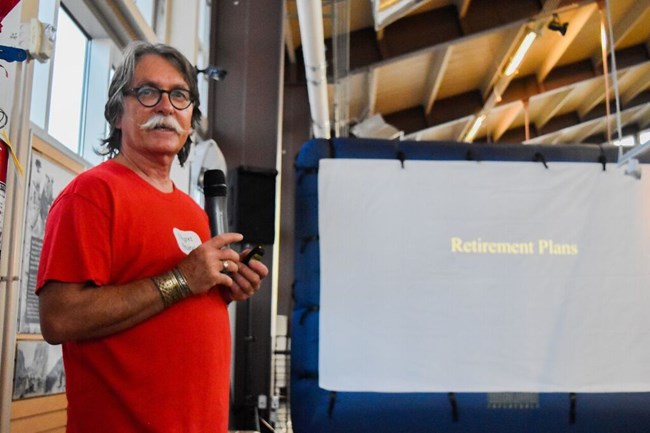 For a time, it was difficult to know who had the longest National Park service record among the paleo parks in the system. It's now been confirmed that Dr. Daniel J. Chure has served 38 years with the Park Service, the longest ever. And now after all those years and achievements, Dr. Chure is retiring as paleontologist from Dinosaur National Monument.

On July 7th, 2017 a retirement banquet was held in honor of Dr. Chure's many years of service to the agency. Co-workers, family members and acquaintances got a chance to "roast" the gregarious Dr. Chure and also speak to his many accomplishments. Many mentioned his years of field work in the monument, in which he, along with a paleontologist from the University of Nebraska, found sites containing several unique fossils and 190 million year-old tracks, that uncovered new information in regards to Jurassic life that once walked the earth. Additionally, Dr. Chure, with paleontologists from Brigham Young University and the University of Michigan, also announced the discovery of a dinosaur new to science called Abydosaurus mcintoshi, including the most complete sauropod skull found in the Western Hemisphere in the last 80 million years.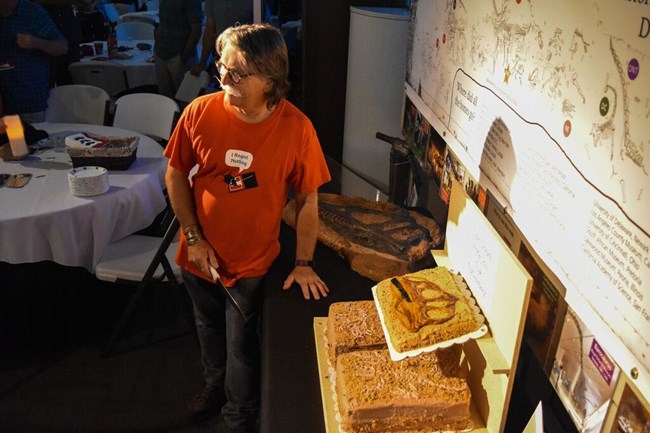 Dr. Chure has also been pivotal in orchestrating the changing emphasis from the excavation of fossils at Carnegie Quarry to the research, understanding and preservation of the site. With his guidance, the paleontology program at Dinosaur National Monument was reorganized in order to better target funding, personnel and resources to delegate to specific research projects. Dr. Chure has made it possible for many doctoral candidates and several universities such as Harvard University, Brigham Young and Utah State University to accomplish their own research.

The construction of Dinosaur National Monument's new Quarry Visitor Center and renovated Quarry Exhibit Hall were achieved largely due to Dr. Chure's efforts in overall design, planning and implementation, such as a large scaffolding system built to hold layers of material that covered the 40 foot-high quarry face in order to protect the fossils as renovations took place. The deconstruction of the old visitor center and repairs made to the exhibit hall were efforts that were of special interest to the scientific community. Never before had a building protecting fossils been demolished over fossils. Many of the exhibits that are now housed in both the visitor center and exhibit hall were made possible through his consultation and expertise. Such additions as the giant mural in the Quarry Exhibit Hall offer visitors an opportunity to see the dinosaurs and the environment of the Carnegie Quarry come to life as it might have looked 149 million years ago.
In coordination with Brigham Young University, Dr. Chure has recently brought the Carnegie Quarry into the digital age. In 2014, LiDAR and photogrammetry equipment were used to digitally map each individual fossil when, up to that point, accurately photographing and mapping them wasn't possible. The quarry is now online through CarnegieQuarry.com reaching people all over the world.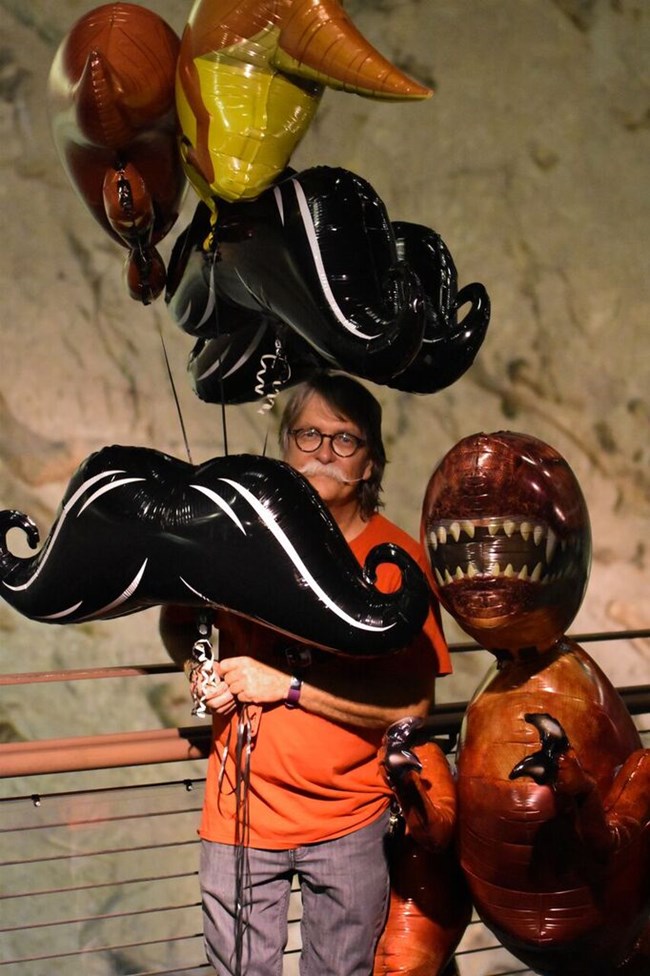 But perhaps there was no greater pride in Chure's long career than his interactions with children. Dr. Chure worked frequently in coordination with the Make-a-Wish Foundation to provide unique experiences for children suffering from terminal illnesses who love dinosaurs. Through the foundation, the biggest fans in all of dinosaurdom were able to see bones up close, galvanizing their energy and enthusiasm. "We [the National Park Service] were always extremely proud when we saw what [Dr. Chure] did for those kids and their families," Dinosaur National Monument Superintendent, Mark Foust said.

In the past, Dr. Chure has been asked many times why he's spent so much of his career at Dinosaur. "There are many other quarries in the same location," Dr. Chure says with his trademark mustache and a mischievous grin. "But none with the diversity that is found here." It is this diversity that has attracted Dr. Chure, like so many others, to paleontology. "I think it's something that you're interested in as a kid, and it's like wanting to be an astronaut, you never grow out of it." As Dr. Chure begins a new chapter of his life, we hope he never does.
Series: Park Paleontology News - Vol. 09, No. 2, Fall 2017
Last updated: November 16, 2017