Pangborn-Herndon Memorial Site
By Aviation: From Sand Dunes to Sonic Booms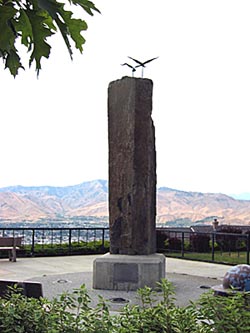 The Pangborn-Herndon Memorial Site northeast of East Wenatchee, Washington, commemorates the first successful nonstop flight across the Pacific Ocean from Japan to the United States by aviators Clyde Pangborn and Hugh Herndon II. Designed by artist Walter Graham, the monument is a column of native basalt found in Moses Coulee about 20 miles from the memorial site near East Wenatchee, Washington. The column is approximately 14 feet high with a three-foot concrete base, is roughly 36 inches in diameter and weighs 14 tons. It is roughly hexagonal in shape, and slants at the top, with 36-inch molten aluminum wings placed at the highest point on the column.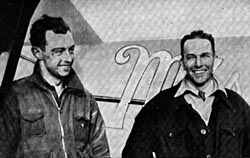 Taking off from Sabishiro Beach, Japan, aviators Clyde Pangborn and Hugh Herndon II flew 4,558 miles in 41 hours and 34 minutes, landing at Fancher Field on October 5, 1931. The flight was made in a small, single-engine plane--a Bellanca "Skyrocket" they named Miss Veedol. Since retractable landing gear had yet to be invented, the landing gear was jettisoned over the ocean after take-off in order to lighten the load and decrease wind resistance. Their landing without gear was so smoothly accomplished that the only damage to the airplane was a bent propeller, which is now in the North Central Washington Museum, in Wenatchee, along with other momentos of the event. The two men were seeking a $25,000 prize offered by a Japanese newspaper, theAsahi Shimbun, to the pilots who could make the first nonstop flight from Japan to the United States.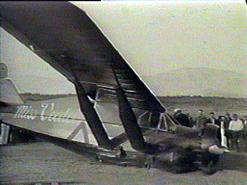 Eight other aviators had attempted the trans-Pacific flight, but all had failed to complete the trip. The Japanese erected a monument at the site of the take-off at Sabishiro Beach, and sent a delegation to the dedication ceremony of the Pangborn-Herndon Memorial at Wenatchee on May 5, 1969. The delegation included Governor Shunkichi Takeuchi, of Aomori Prefecture, who had been a reporter for a Japanese newspaper in 1931 and covered the story of the flight for his paper at that time. The seven acres of property owned by Douglas County used for the memorial included the actual spot on which Clyde Pangborn and Hugh Herndon landed their airplane upon completion of their nonstop flight across the Pacific Ocean from Japan, and according to estimates the monument stands within 50 feet of the actual landing spot.

Visit the National Park Service Travel American Aviation to learn more about Aviation related Historic Sites.
Last updated: September 3, 2017