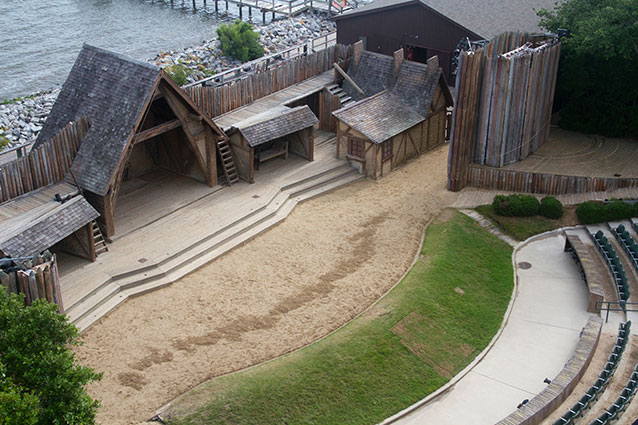 Three buildings in the Waterside Theatre complex, located in the Fort Raleigh National Historic Site, were destroyed by fire on September 11, 2007. Home to the longest-running, outdoor symphonic drama in the nation, The Lost Colony tells the story of 117 men, women, and children who vanished after settling on Roanoke Island over 400 years ago. The fire destroyed three NPS buildings, including a costume shop housing 5,000 vintage costumes created by well-known designers dating as far back as the 1940s. Designer sketches and photographs from many of the 70 previous seasons that decorated the walls and captured the production's history were gone. The monetary loss of the fire was between $2-3 million, but the cultural loss was incalculable.
It's important that we learn from this loss and others throughout NPS history. Are we doing all we can to prevent further losses? How can we turn tragedy into action and ensure that we really are conserving the history in our parks "for the enjoyment of future generations"?
Just as we protect museum collections from damaging humidity, direct sunlight, and theft, fire prevention should also be a priority to protect our historic buildings, artifacts, and employees from structural fires.
Consider the following as you work to protect our national legacy:
Do I know the ways I can prevent fires by identifying potential fire hazards, correcting hazards, or reporting them to the appropriate individuals? In other words, am I turning the coffee pot off before leaving for the day? Did I unplug the charger to the cordless drill or will I report the use of the extension cord in the visitor center auditorium?
Does my park have a Structural Fire Management Plan? Do I know how or when to call for assistance, if needed? Do I dial 911 or call the park's engine company by radio?
Are there alarms or sprinklers that will alert me of a fire situation? Do I ignore the alarms and fire drills or do I take them seriously?
Were pre-incident evacuation or fire plans prepared for the building where I work? Do I know where to find the emergency exits?
Where are the fire extinguishers located? Can I operate them properly?
So, just like 117 colonists, 5,000 costumes and an endless number of valuables disappeared forever. Let's learn from our losses and prevent structural fires.