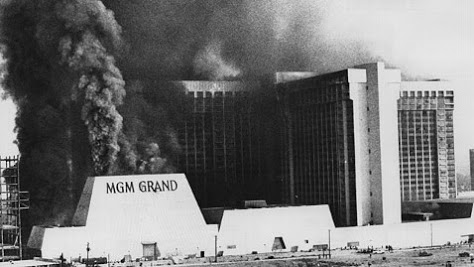 Hotel Fire Safety
"The lucky ones may not have realized" is a story about the survivors of the MGM Grand fire in Las Vegas in 1980. This is an extreme example of what can go wrong when a fire starts in a hotel--85 people died, making the MGM fire the third deadliest hotel fire in US history.
Did you know that 1 in every 12 hotels and motels reports a fire each year? Ask yourself this:
Do you travel?
Do you travel for work?
Do you ever stay in hotels or motels?
If you answered "yes" to any of the questions, here is something you need to know: Federal employees on official travel must stay in accommodations that adhere to the Hotel and Motel Fire Safety Act of 1990. This law was passed to save lives and protect property by promoting fire and life safety in public accommodations. The law also states that federally funded meetings and conferences must be held in properties that comply with fire safety regulations.
The U.S. Fire Administration (USFA) and FEMA have developed a Fire-Safe Hotel List that designates the fire safety requirements that comply with the Fire Safety Act. To qualify for the Fire-Safe List, hotels and motels must have hard-wired, single-station smoke detectors and automatic sprinkler systems installed in each guest room. Check the list of approved hotels and motels for federal travelers.
Fire Info for You
Employees: Learn more about being safe while traveling for business or for pleasure.
Park Leadership: Commercial service managers should take some time to speak with their hotel and motel concessions operators about the need to be listed on the Fire-Safe List. Read about WASO level guidance on promoting fire safety.
Supervisors: If you are signing travel authorizations for employees who will be staying in hotels or motels, ensure that they are on the fire-safe list. Check the USFA list to see if your employees' travel plans comply with the law.
National/Regional Leadership: Previous Prevention 52s have discussed that too many overnight accommodations are without proper smoke detection. We need to solve this problem immediately. Get involved! Work with regional commercial service and structural fire employees to determine how you can resolve these issues in your region.
Take Action
Check the Fire-Safe Hotel List before going on official travel. It's the law.
If you have not been to the Fire-Safe Hotel List website before, go there and bookmark the site.
NPS Fire Facts
What do the Grand Canyon Lodge, Zion Lodge, and Bryce Canyon Lodge have in common? They were all designed by famed architect Gilbert Stanley Underwood, and each had a devastating fire.