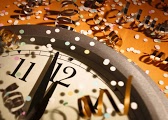 Take Care to Prevent Home Fires
Many home fires that start during our New Year celebrations are accidental and most commonly caused by candles and fireworks. Avoid having a fire ruin your New Year's Eve by thinking of fire safety as you plan your festivities.
Be thoughtful of the placement of candles in your decorations.
Keep candles away from anything burnable.
Place candles on a surface and in a location where they cannot be knocked over by pets or kids.
Extinguish candles when you're leaving the room or going to sleep.
Use flameless candles as an alternative, and you won't have to worry.
Prepare outdoor spaces for fireworks ahead of time.
Use fireworks on unburnable and preferably flat surfaces.
Keep kids and pets at a safe distance.
Handle sparklers carefully to avoid burns.
Use fireworks out in the open and away from buildings, vehicles, and other things that can burn, such as woodpiles.
The Branch of Structural Fire wishes all of you a fire-safe and happy New Year!
Fire Info for You
Employees
Park Leadership
Consider communicating the safety concerns and park policy on the use of candles in employee housing and guest lodging, and the use of fireworks within park boundaries to park residents and visitors.
Take Action
Use the resources listed in "Just for You" to help you plan the safe use of candles and fireworks this holiday season.
NPS Fire Facts
"Auld Lang Syne" is traditionally sung at the conclusion of New Year gatherings in Scotland and around the world, especially in English-speaking countries. It originated from a poem written by Robert Burns in 1788 and was set to the tune of a traditional folk song. The song's title may be loosely translated as "for the sake of old times."