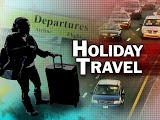 Thanksgiving marks the beginning of the busy holiday season, with an estimated 33 million people traveling. The holiday season, from Thanksgiving to New Years, is the most heavily traveled season of the year. If you are travelling this holiday season, take a few simple steps to ensure that you, your family, and your house are fire-safe while away from home.
Leaving your house fire-safe:
Disconnect the power to electronics, such as your desktop computer, coffee pot, blow dryers, toasters, space heaters, and television. It will save you money and eliminate the potential that lightning or electrical surges could cause a fire in this equipment while you're away.
Check to make sure that all stoves and electrical appliances have been turned off or disconnected.
If you have a fire alarm (this may be a feature of your security system), make sure it is set properly and turned on. If you have a security company, notify them that you will be away.
Turn off air conditioners and lower the heat to 60°F.
Turn off the washer and dryer units.
Turn off all lights.
Dispose of any oily rags or anything flammable in a fire-safe container.
If you have a fireplace, ensure that the ashes are completely cooled.
Fire safety while you travel:
Select a hotel or motel that, at a minimum, has smoke detectors installed. It is preferable to select lodging that also has fire sprinkler systems in place. Check FEMA's Hotel/Motel Safe List to help you find fire-safe lodging for your travels.
Once you get in your hotel room:
Read the fire safety information provided. It is usually posted near or on the back of the entry door.
Just like in your home, plan your escape ahead of time. Locate the two exits nearest your room.
Make sure the fire exit doors work and are unlocked.
Locate the nearest fire alarm and read the operating instructions.
Keep your room key and a flashlight near the bed.
Joining family or friends for the holidays?
Many of us do a great deal of cooking during the holidays. Between socializing and visiting, it is very easy to get distracted from our task at hand. Burning the sweet potatoes would be bad, but starting a fire in the kitchen would be a disaster.
According to FEMA, the greatest cause of kitchen fires is unattended cooking. In addition to keeping an eye on your cooking, also consider the following:
Keep kitchen counter clutter, such as cookbooks, recipe cards, paper towels, oven mitts, and wooden spoons, away from the heat and open flames of stove tops.
For food in the oven, set a timer if you have to leave the room.
If you stay with friends or relatives this holiday season, remember that their house will be as unfamiliar to you in the middle of the night as a hotel room. Be sure to know at least two ways out and ensure any children travelling with you also know how to get out in an emergency.
Take Action
Unplug electronics at your house before you leave.
Stay in a fire-safe hotel during your travels.
Don't leave your cooking unattended.