Fire Prevention 52: Fire-Safe Gifts
By Kathy Komatz, Structural Fire Training Specialist
How about making sure your loved ones are protected with the latest smoke and carbon monoxide alarm technology?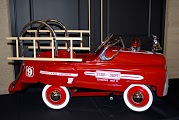 In your quest for the perfect gifts this holiday season, consider fire-safe shopping. Here are some simple fire-safe gifting ideas that can help you.
A Little Research Can Pay Off
Before you purchase a motorized toy, make sure it hasn't been recalled. If you subscribe to www.ConsumerReports.org http://www.consumerreports.org/, check to see what people are saying about the product. As one example, in 2008, more than a million remote-controlled toy helicopters were recalled due to defective rechargeable batteries that would overheat, burn people, and start fires. This author had purchased one of the helicopters and never had a problem, but learned that lithium-ion batteries in general, like the ones that powered the toy helicopters, have been identified as a potential fire hazard regardless of what they are being used for (cell phones, toys, GPSs, cameras, laptops, etc.) Read this previous P52 for more information on lithium-ion battery safety.
How to be Notified of Recalled Products
Many manufacturers provide mail-in product registration cards or product registration online or by phone to notify you if their product has been recalled. In fact, the Consumer Product Safety Improvement Act (CPSIA) of 2008 has a provision that now requires makers of infant and toddler products to provide their customers with a registration card to ensure they'll be notified of recalls. The act also forbids those companies from including any marketing information on the cards.
Expensive Electronics
Big-ticket electronics, such as televisions, computers, and gaming consoles, are at the top of many holiday wish lists. Here are a few things to keep in mind if you are going to purchase them:
Always purchase electrical devices from a reputable retailer, in store or online.
Check that all electrical items are listed by a nationally recognized testing laboratory, such as Underwriters Laboratories (UL), Canadian Standards Association (CSA), or Intertek (ETL).
Always read and follow the manufacturer's instructions.
Send warranty and product registration forms for new items to manufacturers in order to be notified about product recalls.
Looking for Gift Ideas?
How about making sure your loved ones are protected with the latest smoke and carbon monoxide alarm technology? These easy-to-install devices save lives by providing early warning of fire or the presence of carbon monoxide. Perhaps a fire extinguisher for the friend who just bought a new car or electrical socket protectors for the sister who just had a baby...the possibilities are endless!
Wrap it up: Once you have found that perfect fire-safe gift, wrap it up and tag it with one of these festive fire safety gift tags.
Fire Info for You
Everyone
Make safety a holiday tradition. Visit the website of the Electrical Safety Foundation International (ESFI) for information and ideas on how to be fire-safe every festive season.
Recall information is available on the website of the U.S. Consumer Product Safety Commission.
Take Action
When buying gifts this holiday season, be ready, be fire-safe!
Last updated: October 20, 2016