Fire Prevention 52: Fire-Breathing Coffee Tables and Home Fire Safety

Cold? Nothing creates a warm cozy feeling better than a fire in the fireplace...that is after scooping out the ashes that you were supposed to clean out last spring, chopping wood, and crumpling paper!
Perhaps you are considering options such as a fire-breathing coffee table, portable no-chimney-needed fireplace, or decorative fire feature, so you can forget about all that hassle of a fireplace, especially if you haven't had your chimney inspected and cleaned yet.
Think twice about purchasing one of these alternative fireplaces and exercise caution and common sense when operating these devices in your home. Let's learn a little more about them:
Alternate Fireplaces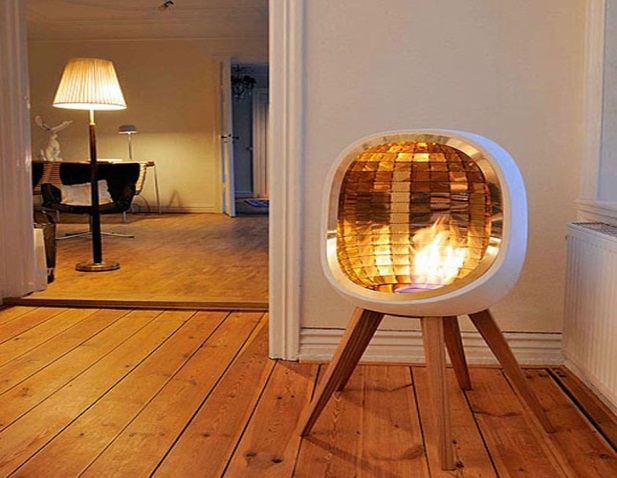 This odd looking device features brass reflectors, making the whole room warm up instantly. The fire is powered by ethanol, eliminating the need for a chimney. These fireplaces come in many shapes and sizes, even ones with handles on top to easily carry from room to room with you.
Precautions:
Never refuel or add ethanol fuel to the burner once it is lit or hot and always have the correct fire extinguisher for ethanol fires handy.
Learn about the types of fires and the correct type of fire extinguisher to use.
Flaming Wall Art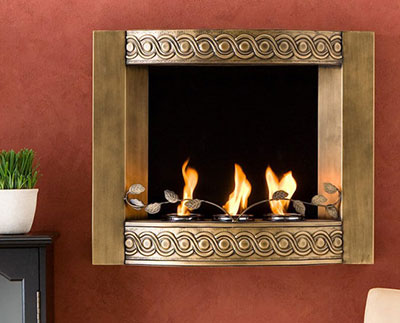 Hanging on the wall like art, this one has three burners powered by gel fuel. There is no additional ventilation needed and it's easy to refill. You can even take out the cans and put in flameless pillar candles if you like!
FYI: All pourable gel fuel has been recalled for serious safety reasons. Learn more. Even if you find it for sale, do not buy it or use it.
Lastly, if you have decided that having these open flame fire features in your house is too dangerous, there are a wide range of fire pits, fire tables, and fire features available for your backyard.
Precautions:
It is imperative to follow manufacturer's directions and to keep them the recommended distance from anything burnable.
What is a fire-breathing coffee table?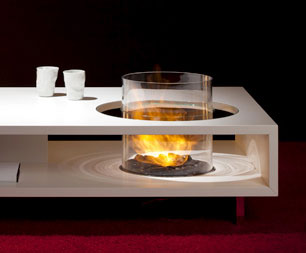 Here is just one example of a fire feature added to a coffee table. There are fire tables designed for indoors and out. Read the manufacturer's directions for details on how to use one safely.
Precautions:
If you have pets or children, a fire table might be a really bad idea.
Keep table top clear of burnable materials
Never leave a fire unattended, indoors or out.
Electrical Fireplaces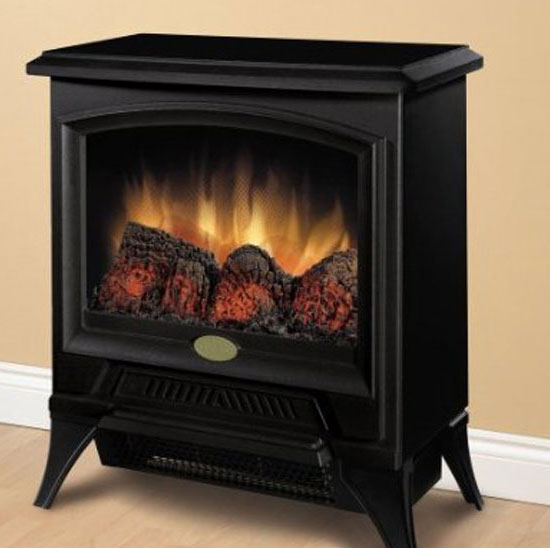 If you don't want the risk of open flames but still want the cozy vibe of a fireplace, you might consider this electric fireplace. Because these have a heating element and a blower, they need to be treated just like a space heater.
Precautions:
Plug power cords into outlets with sufficient capacity for the unit and never into an extension cord.
Use portable space heaters with an automatic shut-off, so they will turn off if accidentally tipped by the family pet or a child.
Consider investing in a heater that has a proximity sensor, which will turn the heater off if objects are too close to the unit.
Do not use the unit in wet areas, such as bathrooms and kitchens.
Operate your portable electric fireplace at least three feet from drapes and furniture.
Fire Info for You
Employees
Enroll and take the NPS Annual Fire Extinguisher Education course in DOI Talent.
Park Structural Fire Coordinators/Park Leadership
These products can be purchased at many common stores and are not cost-prohibitive. Employees living in park housing could easily have these in their housing already. Consider creating an educational product or policy to address this potential fire hazard.
Additionally, ensure that there is adequate smoke detection in every unit of employee housing.
Take Action
These products may not be allowed in your park housing. Check with your park structural fire coordinator or housing manager before you buy one.
Read and follow the directions that come with your fireplace or fire feature.
Treat your portable fire feature for what it is--open flame--and take necessary safety precautions.
Have the correct fire extinguisher and smoke detectors in place before you use any open flame in your house.
Last updated: November 25, 2016