Fire Prevention 52: Dryer Fires
By Eric Anderson, Structural Fire Training Specialist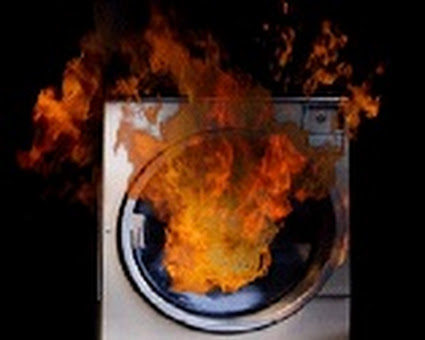 Clothes dryers are a major source of structural fires. According to the U.S. Consumer Product Safety Commission, 15,500 clothes dryer fires occur annually, resulting in an average of 10 deaths, 310 injuries, and over $84 million in property damage.
Laundry facilities are present in almost every private residence, and many buildings, such as lodges, dormitories, and apartment buildings, have dedicated laundry rooms with multiple washers and dryers.
As clothes dry, lint forms and builds up within the dryer unit and the vent, reducing air flow. This can cause the dryer to work improperly or overheat, resulting in a fire. Contributing factors to dryer fires are a lack of maintenance, buildup of lint, placing inappropriate items in the dryer, and inadequate venting.
To prevent dryer fires, follow these safety tips:
Do not leave a dryer running when you are not home.
Do not dry any items made of foam, rubber, or plastic, all of which can melt and cause a fire.
Do not overload a dryer with wet clothes.
Keep the area around the dryer clean and free of clutter.
Install rigid or flexible metal venting from the dryer to the wall outlet.
Always use the appropriate electrical outlet for dryers.
Do not place clothes or fabric soiled with a flammable substance, such as gasoline, cooking oils, grease, or oil, in a dryer.
If you notice a dryer malfunctioning, notify the proper maintenance personnel, or for a residential dryer, call a service technician before continued use. In the event of a fire, evacuate the structure and notify the fire department immediately by calling 911.
Fire Info for You
Employees
Take a minute and check out the NFPA safety tip sheet on washers and dryers for valuable information.
Park Leadership
Ensure that facility managers are aware of the potential dangers associated with dryers and that all laundry facilities are properly maintained. Vent systems, in particular, need to be cleaned at least annually, and should be inspected regularly. Fire protection systems should be installed and maintained annually.
Regional/National Leadership
Lint fires are much more common in group living situations, such as dormitories. It is imperative that housing managers and concession managers are aware of the potential for dryer fires and incorporate vent and dryer inspections into their routine inspections of dormitory buildings.
Take Action
Always clean the lint screen before or after each load of clothes.
Clean the dryer vent and exhaust duct periodically to prevent lint buildup.
Housing managers: Post this or another message about preventing dryer fires in your park's laundry facilities.
NPS Fire Facts
A park employee used a dryer to dry rags that had been soiled with grease. The dryer heated the grease to the point of ignition, causing a large amount of smoke to come out of the dryer and activate the smoke alarm. Fortunately, a lodge employee found the source of the smoke, unplugged the dryer, and suppressed the small fire. The alarm system operated properly and the building was evacuated.
The quick actions of the lodge employee prevented a potentially large fire loss. It was also fortunate that the fire alarm and suppression system had been maintained and functioned properly.
Unfortunately, the park's engine company was not notified, and no trained fire personnel responded to the incident. Had this fire grown too large for the employee to suppress, the delay in fire department response could have resulted in a considerably greater loss.
Last updated: October 19, 2016