Fire Prevention 52: Deck the Halls Safely
By Roberta Gorman, Structural Fire Program Assistant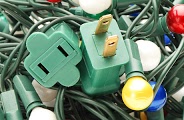 Decorating your home and workplace is a time-honored tradition that adds to the enjoyment of the holidays. If not done safely, though, decorations may increase your chances of fire and cause your holiday memories to go up in smoke.
According to the National Fire Protection Association (NFPA), holiday decorations (excluding trees) cause about 790 home fires annually in the United States, resulting in 1 civilian fire death, 26 civilian injuries, and $13 million in direct property damages. As you decorate in the coming weeks, keep fire prevention uppermost in your mind.
Holiday Lights
Inspect your holiday lights before use and discard light strands with cracked lights, excessive kinking, frayed cords, or loose sockets. Wires should not be warm to the touch.
Refrain from overloading electrical outlets; no more than three mini-light strands or 50 screw-in bulbs should be linked together.
Use clips to hang your lights, not nails.
Do not run extension cords under carpets or across doorways, heaters, lawns, or high traffic areas. Ensure cords are not pinched under or behind furniture.
Plug cords into permanent outlets installed by a professional electrician.
Never use electric lights on a metallic tree.
Outdoor lights are UL/FM listed for cold and wet conditions and tend to burn hotter than indoor lights. Indoor lights are cool enough to be used on the tree but are not designed for outdoor conditions. Many newer strands are made for either, but verify the type of strand before use by looking at the tag near the plug.
Christmas Trees
If you purchase a live Christmas tree, choose a fresh tree. The stump should be sticky and the needles should be green and difficult to pull back from the branches. Test the tree by bouncing the trunk on the ground. If many needles fall off, the tree is too dry, creating a potential fire hazard.
Keep your live Christmas tree watered at all times, using only water. Cutting 2" off the trunk before setting up the tree will improve water absorption.
Place the tree away from fireplaces or heat vents.
Do not leave it up longer than two weeks.
Avoid the use of common fire retardants that can increase moisture loss.
Consider buying a live tree that can be planted in your yard after the holidays or an artificial tree that can be used for many years.
Dispose of the tree as soon as needles start falling off. Do not burn it in a fireplace or wood stove.
Ensure that all exits in your home and office are clear of trees and other holiday decorations.
Candles
Keep burning candles at least 12 inches from burnable materials and never leave them unattended.
Place candles in nonflammable, non-tip candleholders before lighting them.
Keep candles away from children and pets.
Do not use candles on trees or where medical oxygen is being used.
Consider battery-operated candles with the look, feel, and smell of wax candles.
Decorations
Use nonflammable decorations placed away from lights and heat vents.
Do not place wrapping paper in a fireplace. A large fire can throw off dangerous sparks and cause a chimney fire.
Avoid smoking near decorations.
Fire Info for You
Employees
Tragedy can strike in less than 30 seconds, as shown in this tree fire video from NFPA.
Review the NFPA's Winter Holiday Safety tips for additional information on holiday decorating and entertaining.
Employees should always ask the park structural fire coordinator about Christmas trees and other combustible vegetation prior to purchase and placement in the workplace or park housing.
Firefighters/Park Structural Fire Coordinators
Be extra vigilant during the holiday season as electric holiday decorations can overload a building's electrical system, particularly in older structures, increasing the chance of a fire.
Live Christmas trees and other burnable vegetation in offices and other NPS and concession buildings should be monitored and controlled to prevent fire risk.
You can use the following resources:
Take Action
Ensure that all exits in your home or office are clear of trees and other holiday decorations.
Keep matches, lighters, and candles out of reach of children.
Remove all wrapping paper away from the tree, heating vents, and fireplace areas immediately after presents are opened.
Unplug all lights before leaving your house or going to bed.
NPS Fire Facts
On October 9, 1992, a fire started in a health spa, historically known as the Government Free Bathhouse, in Hot Springs National Park. The fire in the structure was caused by a candle left burning after-hours in a second floor massage room. The fire damaged the room and spread to adjoining areas.
Fortunately, the local fire department responded and quickly suppressed the blaze. The greatest impact to the building was caused by smoke. Candles were prohibited from use in the structure.
Last updated: December 15, 2022