Fire Prevention 52: Cigarette Butts
By Kathy Komatz, National Structural Fire Training Specialist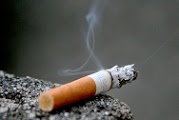 If you smoke, put it out. All the way. Every time.
Every year, over 500 smokers and nonsmokers are killed in home fires caused by cigarettes and other smoking materials, making this one of the top fire causes in the United States.
Most fires caused by smoking materials start on beds or furniture, or in trash. Fires caused by cigarettes and other smoking materials are preventable. E-cigarettes present a different hazard. E-cigarettes can explode and cause fires, the main cause of explosion is due to the failure of the lithium-ion batteries. Before purchase, know the dangers of lithium-ion batteries and e-cigarettes.
You can make a difference...
If you smoke, smoke outside. Most home fires caused by smoking materials start inside the home. When you smoke outside, discard cigarettes and ashes in an unburnable (and unmeltable) can filled with sand and never throw cigarettes on the ground.
Wherever you smoke, use deep, sturdy ashtrays with a wide, stable base that are difficult to tip over and set ashtrays on something sturdy and difficult to ignite, such as a table.
Make sure cigarettes and ashes are out before throwing them in the trash can. Soak cigarette butts and ashes in water before throwing them away. Never toss hot cigarette butts or ashes in the trash.
Check for butts. Chairs and sofas can catch fire fast and burn fast. Don't set ashtrays on them.
Never smoke in bed! To prevent a deadly fire, put your cigarette out before you go to bed.
Never smoke where oxygen is used (even if it is turned off). Oxygen can be explosive and makes fire burn hotter and faster.
Fire-safe cigarettes are less likely to cause a fire. These cigarettes have banded paper that can slow the burn of a cigarette that isn't being used.
Know the dangers of e-cigarettes, learn how to prevent e-cigarette explosions, and report any vape explosions or fire.
Fire Info for You
Employees
Park Leadership
Ensure that there are fire-safe ashtrays at designated smoking areas.
Take Action
If you are a smoker or live with a smoker, these action items are for you:
Watch this short video about smoking safety.
Download this fact sheet about safe smoking tips.
Ensure that you have adequate and functioning smoke detectors.
NPS Fire Facts
Recently, residents inside their dorm room were awakened by the smell of smoke. They walked outside the front door and saw the deck on fire. The residents extinguished the fire, but the fire badly damaged the wooden deck and the front exterior wall with burn marks indicating 3-5 foot flames.
The fire was started in a plastic bucket filled with sand used as an ashtray for cigarette butts. The bucket was located right next to the deck.
No buts about it, cigarettes can cause fires, and how you dispose of your cigarette butts may make all the difference in the world.
Last updated: September 12, 2022