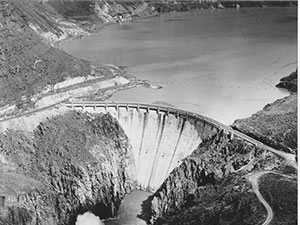 The Owyhee River is far less famous than the Colorado, which carved the Grand Canyon and backs up behind the most famous dam of all--Hoover. But the Owyhee River (pronounced oh-Y-hee) and its Owyhee Dam, 11 miles southwest of Adrian, Oregon, have much in common with Hoover and the Colorado. Owyhee Dam, the tallest in the world when completed in 1932, is significant as a proving ground for engineering techniques used later in construction of Hoover Dam. Not to be outdone, the Owyhee River, as it cuts through the arid uplands of southeastern Oregon, carves "Oregon's Grand Canyon," a deep and spectacular gorge where 14 million years of geologic history and numerous archeological and historical sites can be found. 

The river's name, Owyhee, is a local variation of "Hawaii," commonly used in the 19th century. An 1826 fur trapper account says the river was named for three native Hawaiian fur trappers who were killed by Indians while trapping in the area for the Northwest Company. The Hudson Bay Company also was known to employ Hawaiians, hundreds of whom arrived at Fort Vancouver as indentured servants. 

The Owyhee River was an early candidate for damming when the U.S. Reclamation Service (today's Bureau of Reclamation) was created in 1902 to administer the Reclamation Act, which committed the Federal Government to build permanent irrigation works--dams, reservoirs and canals--to irrigate arid and semiarid lands in the American West. The Reclamation Service surveyed the Owyhee and its neighbor, the Malheur River, in 1903, noting their possibilities for irrigation works. Private irrigation projects, including the Owyhee Ditch, operated in the area as early as 1881, but the Owyhee, like so many Western rivers, was not dependable. Water flowed freely from February to May, but during the summer the Owyhee disappointed.