By Aviation: From Sand Dunes to Sonic Booms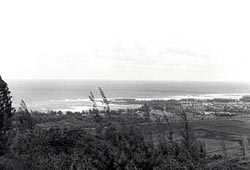 The Opana Radar Site on the Hawaiian Island of Oahu marks the first operational use of radar by the United States in wartime. In December 1939, the U.S. military, experimenting with the advantages of radar, established an Aircraft Warning Service (AWS) that used radar for the defense of American territory. Under the command of Col. Wilfred H. Tetley the AWS established six mobile radar detector sets at Kawaiola, Wainae, Kaawa, Kokohead, Schofield Barracks and Fort Shafter. On Thanksgiving Day in 1941, the same day the Japanese fleet sailed for its Pearl Harbor mission, the radar set from Schofield Barracks was moved to the Opana Radar Site, a location 532 feet above sea level that provided an unobstructed view of the Pacific Ocean. The unit was comprised of four trucks carrying the transmitter, modulator, water cooler, receiver, oscilloscope, operator, generator and antenna.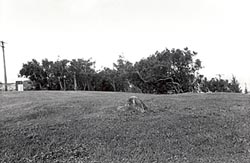 On December 7, 1941, the Opana Radar Site was manned by Private Joseph L. Lockard and Private George Elliot, who detected approaching aircraft at 7:02am while practicing with the radar equipment. The men reported their findings to the temporary information center at Fort Shafter. The information center staff had gone to breakfast and Lt. Kermit Tyler received the report. Tyler reasoned that the activity was a flight of Army B-17 bombers scheduled to arrive at that morning and advised the radar crew not to worry. Elliot and Lockard continued plotting the incoming planes until 7:40 when contact was lost. Shortly before 8:00am the two men headed to Kawailoa for breakfast and only learned about the attack when they arrived. Elliot and Lockard rushed back to Opana and operated the radar until the attack ended. The missed opportunity to correctly identify the incoming Japanese air attack is one of the great "what might have beens" of military history. Today, a modern Navy telecommunications station occupies the top of the Opana Hill adjacent to the Opana Radar Site.
The Opana Radar Site, a National Historic Landmark, is located off the Kamehameha Hwy. on the Hawaiian Island of Oahu. It is not accessible to the public.
Visit the National Park Service Travel American Aviation to learn more about Aviation related Historic Sites.
Last updated: August 15, 2019