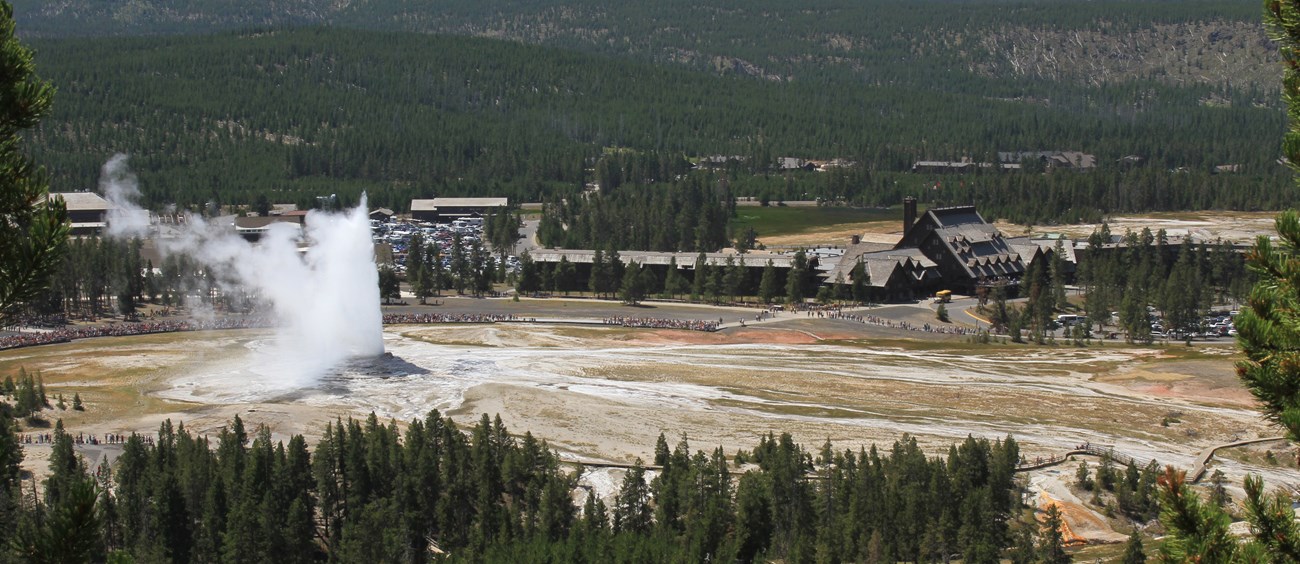 Old Faithful erupts more frequently than any of the other big geysers, although it is not the largest or most regular geyser in Yellowstone National Park. Its average interval between eruptions is about 90 minutes, varying from 50 to 127 minutes. An eruption lasts 1.5 to 5 minutes and expels 3,700-8,400 gallons (14,000-32,000 l) of boiling water, and reaches a height of 106-184 feet (30-55 m).
Old Faithful Geyser has an average temperate of 169.7°F (76.5°C), an average pH of 9, and an average conductivity of 1972 uS/cm.
Name Origin
Members of the Washburn expedition of 1870 named this geyser for its consistent performance. Although its average interval has lengthened, Old Faithful Geyser is as spectacular as it was a century ago.
History
The geyser is the centerpiece of the Old Faithful Historic District. The surrounding buildings are all set back from the geyser about the same distance: 1/8 mile (0.2 km). Only two buildings have been allowed to infringe upon this distance, established by Federal law: the Old Faithful Inn's east wing and the Old Faithful Lodge.
Use Caution in Hydrothermal Areas
Stay on boardwalks and designated trails.
Hydrothermal water can severely burn you.
Never run, push, or shove.
Supervise children at all times.
Do not scratch hydrothermal mats.
You are responsible for your safety. Think safety, act safely. Yellowstone is a dangerous place.
Accessibility
Wheelchair-accessible walkways lead from all parking areas to Old Faithful Geyser, and from the visitor center to other hydrothermal features.
Visiting the Old Faithful Area
Parking in the Old Faithful Area can be limited, especially 10 am–6 pm, in the summer months. During the winter season, the Old Faithful Area is only accessible via snowmobile and snowcoach tours.
Notes on Predictions:
- Predictions are not available when the Old Faithful Visitor Education Center is closed, typically early November through mid-December and mid-March through mid-April.
- The last prediction made will remain up until a new prediction is available.
Old Faithful and the Upper Geyser Basin Live-stream Webcam
This live view is made possible by the Eyes on Yellowstone program funded by Canon USA, Inc. through a generous grant to Yellowstone Forever.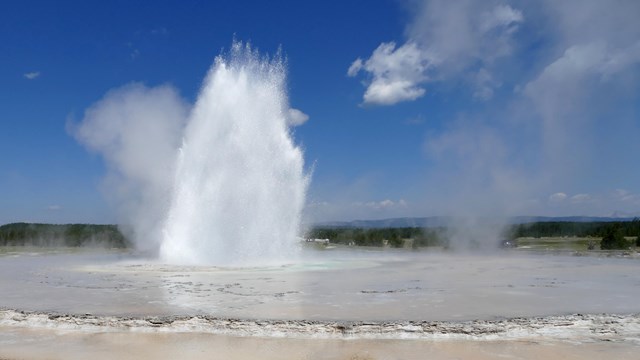 Hydrothermal Features
Yellowstone National Park preserves the most extraordinary collection of hot springs, geysers, mudpots, and fumaroles on Earth.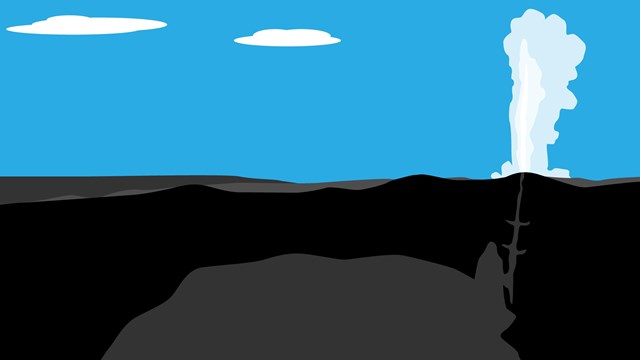 Predict Old Faithful
Calculate your own prediction for Old Faithful's next eruption.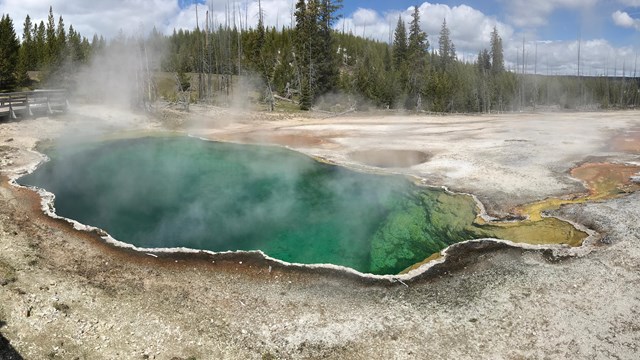 Yellowstone National Park
On March 1, 1872, Yellowstone became the first national park for all to enjoy the unique hydrothermal wonders.