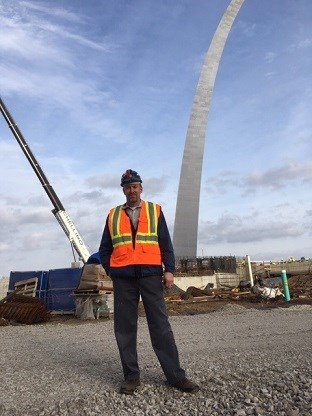 What is your job title? Program Manager

What experience and education do you have? I have a B.A. in electrical engineering from Colorado Technical University while on active duty with the U.S. Air Force. The Air Force gave me the opportunity to manage fast-track construction projects under the Simplified Acquisition of Base Engineering Requirements (SABER) program. That program taught me the fundamentals of project management and COR responsibilities. I later returned to the Air Force as a reservist and received my commission and eventually retired a couple years ago with 25 years. Coinciding with my military duty, I came to work for the Denver Service Center as an electrical engineer in February 1993, where I was exposed to small and large construction projects throughout the country. I left the DSC in 2000 to work for the General Services Administration (GSA) managing their Capital Improvement projects and grew to love working with large construction firms and Architecture and Engineering (A/E) teams. I returned to DSC in 2007 and I was given an amazing opportunity to work on the Elwha program and many other smaller, fast-track projects.

I was recently promoted from the Lead Project Manager position for the $106M Museum & Visitor Center project to the Program Manager for the City Arch River (CAR) Program which includes 12 different, integrated projects. DSC has been involved with the CAR program since May 2012, and we've managed the completion of 7 of the 12 projects already; nonetheless, we look forward to a few more years on site to complete the remaining program projects currently underway.

What is a typical day like? A typical day at DSC includes both cubicle time with stakeholder coordination meetings and oversight of design and construction projects (as I'm also completing two projects in Glacier NP this June). For the City Arch River projects, travel is required more often so that the entire team presents an overall weekly presence; thus, my travel to St. Louis is monthly. Site visits include change order negotiations, inspections of progress and quality, and stakeholder coordination.

What career advice would you give to someone who wants to follow a similar path?
This job is a pretty good gig. Others who are interested in joining our ranks are somewhat surprised at the amount of workload, processes, and interesting sites we're involved with. Many of DSC's current and recently retired workforce started out as architects, landscape architects, or engineers, which I believe are essential skills to acquire in helping understand the details that go into the design documents and integration with other design disciplines and system components. But in addition to the technical aspect, the project management teams also need to have good communication and interpersonal skills.

What is one of the bigger projects you are working on and what about that project might surprise people?
I've always pursued the larger projects since returning from the GSA, as I enjoy the level of skill, talent, and expertise larger A/E and construction firms bring. When I returned in 2007, I worked on the $85M Elwha Water Facilities project, BIA's $40M Tribal School Replacement, and then the $200M CAR program along with a bunch of smaller projects. I find it truly rewarding working with great folks in the parks, regions, and DSC to accomplish these unique, wonderful projects, and I look forward to the next challenge.


Last updated: February 15, 2017