Every Kid in a Park Grants Bring Students to Fort Vancouver National Historic Site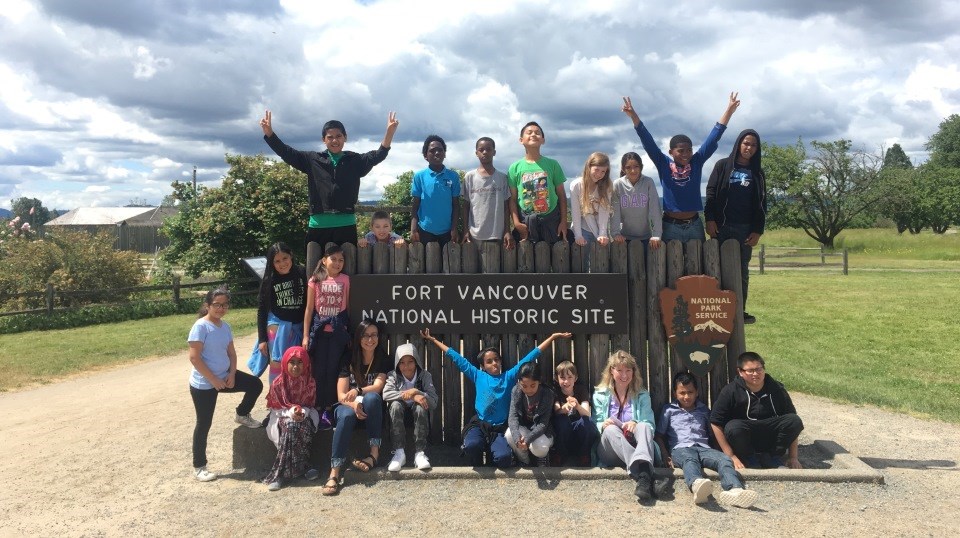 Did you know that in 2018 the National Park Foundation is celebrating its 50th birthday? The National Park Foundation (NPF) has supported parks across the nation in countless ways through their support of partnership, philanthropy, and volunteering... including Fort Vancouver National Historic Site! Thanks to grants from the NPF's Every Kid in a Park program, in 2017 and 2018 we are able to reimburse 4th grade classes from Title 1 schools for the cost of their transportation here on field trips.
Every year, Fort Vancouver hosts over 10,000 students on formal field trips, helping them explore Pacific Northwest history through curriculum-based educational programs. They discover the past in the place where it happened!
Prior to field trips, educators may prepare their students by guiding them through extensive features on our website that detail the people, places, and stories of the park. During their time on site, the focus is on a place-based learning program called "Talk of the Trade," which is aligned to the upper elementary state history curriculum. During this program, students explore the historic site through the eyes of a fur trader of mixed ethnicity. Interactive elements include learning vocabulary of Chinook Jargon (the common language of the multicultural fur trade), how early trade and barter systems worked in a region with no currency, the environmental effects of fur extraction, and how people from many different backgrounds lived here together. Much of the content is derived from the lessons history has to offer on conservation of one's surroundings and living harmoniously with people different from oneself.
After their field trip, the students may complete a curriculum packet developed by staff from the park and from the local Educational Service District, which invites students to investigate the past through archaeological artifacts from the park's museum collection. Most of the historical population at Fort Vancouver was illiterate, and it is essential to incorporate resources other than the written record, like artifacts, in order to form a more accurate and balanced picture of past life here.
The grants from the National Park Foundation help us ensure that this field trip opportunity is available to schools throughout the area, regardless of their circumstances.
Last updated: December 13, 2017