Non-Invasive Archeological Investigations at Saint Croix Island International Historic Site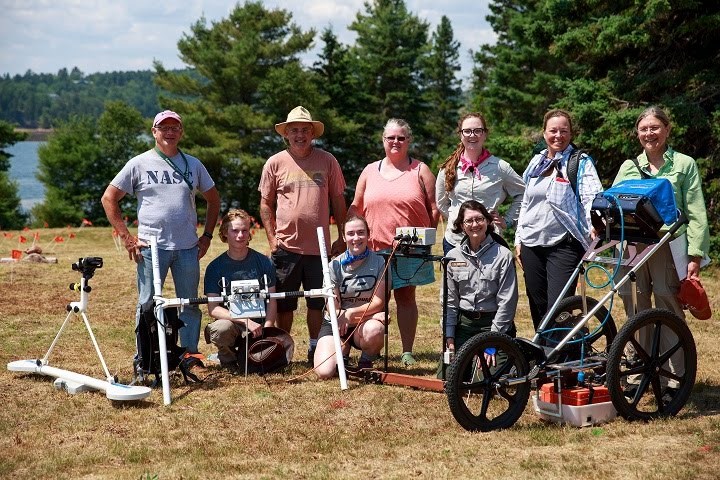 During the first week of August 2017 the Northeast Region Archaeology Program (NRAP) joined staff and volunteers from Saint Croix Island International Historic Site (SACR) and Acadia National Park (ACAD) to conduct high resolution geophysical surveys across the actively eroding southern half of Saint Croix Island, the location of one of the earliest first French settlements in North America (1604). The survey team camped on the island to take advantage of daylight hours and facilitated by Meg Scheid (SACR), Rebecca Cole-Will (ACAD), and the SACR erosion team Karen Anderson (ACAD) and Tim Smith (National GPS Program Coordinator, Denver), were able to complete surveys with five different geophysical methods including ground penetrating radar, fluxgate gradiometry, resistivity, conductivity, and magnetic susceptibility over an area approximately 120 m x 60 m (7,200 m2).

In the middle of the week representatives from NPS, the Passamaquoddy Tribe, and Parks Canada traveled out to the island to see the erosion and geophysical survey teams in action and learn more about the goals of the research and methods used to non-invasively map the island. Attending the VIP tour were: NPS staff Meg Scheid (SACR Site Manager), Rebecca Cole-Will (ACAD, Chief of Resource Management), Mike Madell (SACR Deputy Superintendent); Maine Passamaquoddy Tribe - Ralph Dana (Sipayik Tribal Chief), Donald Soctomah (Tribal Historic Preservation Officer); Passamaquoddy Tribe New Brunswick - Hugh Akagi (Tribal Chief); Parks Canada New Brunswick South Field Unit - Dan Mazerrole, Livia Goodbrand, Andrew Fry, Kurt Peacock; and Northeast Region Archaeology Program - Dr. James W. Kendrick (Regional Archaeologist).

Results from this project are intended to contribute to decision making for treatment, protection, and management of the archaeological resources on Saint Croix Island. The southeastern end of Saint Croix Island is being destroyed at an alarming rate due to a combination of tidal surges, storm impact, and intense rodent burrowing. Data collected by the erosion team show a net loss of 67 cubic meters from the southern bluff during the five year period between 2011 and 2015. In 2016 the net loss was 262 cubic meters, a 391% increase over one year compared to the previous 5 years. The increased rate of bluff erosion may be the result of increased intensity and frequency of high-impact storm events.

The goals of the survey are to locate and identify any remaining cultural resources on the southern end of Saint Croix Island and to investigate the integrity of sedimentary structure of the eroding bluff edge of the island. The geophysical survey team is now back in Lowell processing and interpreting the results of the week's work.
Last updated: November 29, 2018