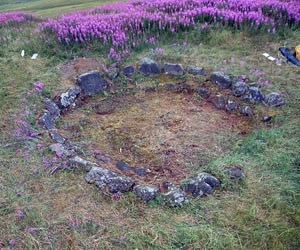 Archeologists from the University of Alaska Museum and the NPS recently conducted work at a unique set of three prehistoric lakeside village sites in northwestern Alaska. The sites are marked by dense concentrations of house and storage features and caribou hunting facilities that are not uncommon in the region and are likely associated with ancestral Inupiat groups. The sites also contain large, rock-lined communal structures (qargit), and dozens of petroglyphs. Taken together, the qargit and petroglyphs are a completely unique habitation site type for Alaska. It is clear that something special occurred at these places many centuries ago and, while known by archeologists for decades, the sites had never been thoroughly investigated or documented.
In the face of emerging threats from erosion and other natural disturbances and being at risk from vandalism or unauthorized excavation, researchers and park managers set out to document and evaluate the sites, shedding light on their mysteries and at the same time enhancing their preservation. The project focused on three sites located in Noatak National Preserve in northwest Alaska. Field work was conducted in 2011 and 2012.
The lakeside villages have several shared characteristics that set them apart from other sites in interior northern Alaska. Not only are they all habitation sites with house, storage, and hunting-related features, but they each contain a large communal dwelling or qargi. Historic period ethnographic accounts describe qargit as a places for village residents to gather, fix tools and equipment, tell stories, feast, and conduct ceremonies. These structures are known in many Late Prehistoric age sites across northern Alaska, but the three qargit at these lakeside villages are unique because they were each built using substantial circular boulder-lined foundations, some as large as 4-5 feet in diameter and weighing hundred pounds (Figure 1). The construction necessitated a substantial amount of effort and coordination, and these structures come closer to the category of monumental architecture than anything else known from the American Arctic.