Niagara Hudson Building, New York
A stunning example of the Art Deco style, the Niagara Hudson (Mohawk) Building in Syracuse was the headquarters of the nation's largest utility company and a symbol of the Age of Electricity when it was constructed in 1932. Continually used as offices for a series of power companies, the building's exterior was in need of rehabilitation to showcase its beauty.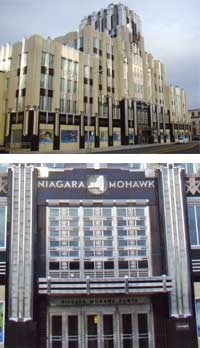 As part of a Federal Rehabilitation Tax Credit program project, the terra cotta and cast stone panels between the windows were cleaned and repaired, along with stainless steel decorative details such as the iconic "Spirit of Light," aka "Iron Mike," sculpture on the building's tower. The chrome nickel marquee also was restored to its original appearance. The original fenestration pattern was restored, replacing shorter aluminum windows installed in the 1980s. Most of the building's original Vitrolite panels had been previously replaced with Alucobond panels that had lost their shiny finish. Remaining Vitrolite was repaired and replacement ceramic-fit glass panels were installed to replicate the Vitrolite's appearance where it was missing.
Last updated: October 10, 2017