Article
Case Study: Newmarket Textile Mill, New Hampshire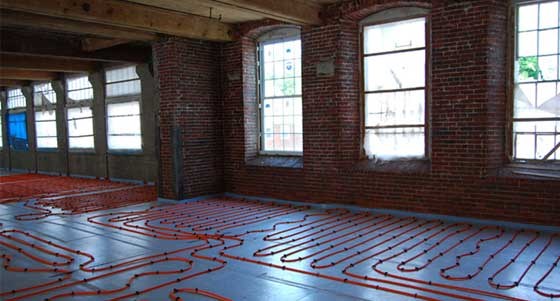 The Newmarket mill redevelopment was part of the town's downtown revitalization strategy to provide new tax revenue, business opportunities and jobs. It stands as a tribute to this productive and hardworking community of the past and present.
In 1823, the Newmarket Manufacturing Company built its first mill along the Lamprey River, dominating the waterfront and the economy of Newmarket, New Hampshire. Harnessing water power at the base of the falls, the Waltham-type cotton textile manufacturing community eventually grew to include seven textile mills, with factory buildings, machine shop, office, storage buildings, and corporate boarding houses; totaling some 140 buildings in all. When raw cotton from the Southern states became hard to get during the Civil War, the company expanded operations to include the manufacture of silk textiles. During its peak production, 700 employees made up to 300,000 yards of cotton products each week, and 2.7 million yards of silk cloth each year. The mills operated continuously at this site until 1929 when a dispute between mill owners and workers erupted leading to their closure.

Between 2010 and 2012, eight buildings within the Newmarket Manufacturing Company mill property underwent a conversion to mixed use, including 116 market-rate residential units. By adopting a new incentive zoning, this higher density of housing units was allowed in return for certain public amenities and public space in the mills including a mill courtyard and waterfront park. Over 55,000 square feet of office space housing a core of outdoor gear and healthy lifestyle businesses was also created, as well as spaces designed for artisans and retail operations. The $17 million project involved a public and private partnership between the town, the Newmarket Community Development Corp., Newmarket Mills LLC, and Chinburg Properties. Historic preservation was an important element in the redevelopment program. In obtaining NPS certification for purposes of the 20% Federal tax credits, the developer carefully preserved important spaces, features, and finishes that defined the historic character of the mill buildings. The stone facades were repaired, original wood floors restored, and windows and doors were repaired or replaced according to the NPS's historic rehabilitation standards.
Last updated: March 7, 2023