New Mexico: Percha Diversion Dam
By Discover our Shared Heritage Travel Itinerary Series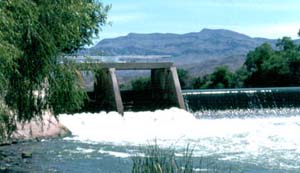 Percha is a diversion dam, one of six on the Bureau of Reclamation's Rio Grande Project, but the only one of the group that is individually listed on the National Register of Historic Places. While only 18½ feet tall, Percha stands out as an integral feature of the Rio Grande Project, which irrigates the arid sagebrush and mesquite lands of west Texas and southeastern New Mexico. The centerpiece of the project is the 300-foot-tall Elephant Butte Dam and reservoir, which store water for irrigation, while smaller-scale Percha Diversion Dam, as its name implies, diverts the stored water into a canal. The 27.1-mile-long Rincon Valley Main Canal carries water to irrigate lands in the Rincon Valley between Truth or Consequences and Las Cruces, New Mexico. The Rincon canal crosses over the Rio Grande in the Garfield Flume, and under the river in the Hatch and Rincon siphons.

Other diversion dams on the project, including the historic Leasburg and Mesilla dams, funnel water into other canals until, all told, the Bureau of Reclamation's Rio Grande Project supplies enough water to irrigate about 178,000 acres, where farmers grow pecans and cotton, green onions, peppers, alfalfa, and two dozen other varieties of crops. 

Percha Diversion Dam was completed on the Rio Grande in 1918, about 25 miles south of Elephant Butte Dam. It is a reinforced concrete weir, meaning the water flows over its top. Though not tall, Percha is long. The dam itself is 350 feet long, but if you include its embankment wings, its crest measures 2,720 feet--more than one-half mile. The dam includes eight radial or Tainter gates that lift the level of the river 6 feet above its normal elevation so it can be diverted into the canal. 

In 1938, Percha Dam got a neighbor, the 96-foot-high Caballo Dam, built just two miles upstream for flood control and to replace storage lost at Elephant Butte due to the buildup of silt. By storing winter releases from Elephant Butte, Caballo also made year-round power generation possible at Elephant Butte Dam, where a powerplant was added in 1940. Construction of Caballo Dam and its large reservoir led to development of New Mexico's Caballo Lake State Park and the nearby and much quieter 80-acre Percha Dam State Park, considered one of the top five bird-watching sites in New Mexico.
Visit the National Park Service Travel Bureau of Reclamation's Historic Water Projects to learn more about dams and powerplants.
Last updated: January 13, 2017