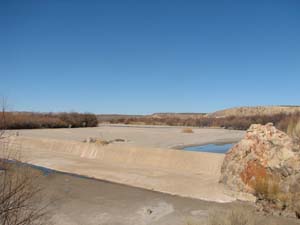 Leasburg Diversion Dam holds the distinction of being the first dam completed on the Bureau of Reclamation's historic Rio Grande Project, which brought irrigation to the arid sagebrush and mesquite lands of west Texas and southeastern New Mexico. While long overshadowed by the 300-foot-high Elephant Butte Dam, the small-scale Leasburg Dam, at only 10 feet high, nonetheless plays an integral role in the Rio Grande Project. While Elephant Butte Dam and its reservoir store water for irrigation, the project's six diversion dams funnel the water into canals, which carry it to irrigation lands. Leasburg Dam, completed in 1907, diverts the Rio Grande into the 13.7-mile-long Leasburg Canal, which carries water to irrigate the upper Mesilla Valley north of Las Cruces, New Mexico.

The Mesilla Valley has been utilized by a variety of cultures for thousands of years. Archeological surveys in the vicinity of Leasburg Dam have found evidence, including subterranean pits, which place the Jornada Mogollon people in the area a thousand years ago. In the 1700s and 1800s, the Chiricahua and Mescalero Apache lived here, while travelers heading north from Mexico City passed this way on the 1,500-mile El Camino Real de Tierra Adentro (the Royal Road of the Interior Land), which today is a National Historic Trail. Following the Mexican War, the region became part of the United States, which established Fort Selden, built of adobe, to guard the Rio Grande. The town of Leasburg grew up outside the fort. For years, a diversion dam and community ditch at the head of the upper Mesilla Valley served Spaniards, Mexicans and Americans alike. Historian Robert Autobee describes the old diversion dam as "an obstruction" built of poles and interwoven with twigs and stones for ballast.

With authorization of the Rio Grande Project on December 2, 1905, the U.S. Reclamation Service (today's Bureau of Reclamation) designed a 10-foot-high, 600-foot-long concrete weir to replace the old twig and stone diversion dam. Work commenced on the weir (a low dam where the water flows over the top) on November 20, 1906. By 1908, the Rio Grande was being diverted into the Leasburg Canal to irrigate 31,600 acres in the upper Mesilla Valley. Nine miles south of the dam, the 502-foot-long, steel truss Picacho Flume carried canal water over the Rio Grande.