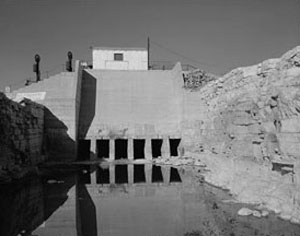 For all its ill luck, Avalon Dam has played a significant role in western irrigation history. First built in 1889 by private entrepreneurs on the Pecos River north of Carlsbad, New Mexico, Avalon was among the first irrigation dams in the United States to be constructed of loose rock with an upstream face of earth. Impressive as well was Avalon's innovative sluice gate, which directed river water into the system's Main Canal. The canal also boasted a striking feature--a wooden flume so long and wide that four mule teams could walk across it, side by side. 

Avalon Dam was only four years old when flood waters breached its crest, damaging canals and the massive flume. That 1893 flood did not, however, dampen the enthusiasm of wealthy entrepreneur James John Hagerman, who had made a fortune from Colorado's Mollie Gibson silver mine. Believing he could make the arid Pecos Valley bloom, Hagerman poured his money into rebuilding Avalon Dam, only to see a flash flood destroy it again in 1904. 

The Pecos River, a tributary of the Rio Grande, proved an unreliable friend as it flowed out of the mountains near Santa Fe and into the generally flat plains of southeastern New Mexico, where temperatures could soar to 111 degrees in the summer. While the area received an average of only 12.5 inches of precipitation a year, the rain could come in torrents, washing down an arroyo (creek) or lifting the Pecos right out of its banks. The dangers hadn't stopped local ranchers such as Charles B. Eddy and Pat Garrett from dreaming of turning the Pecos River Valley into an oasis. Eddy and Garrett (the former sheriff who killed Billy the Kid) formed an irrigation company, solicited outside financiers, including Hagerman, and began constructing substantial irrigation works, including the original Avalon Dam. As Hagerman and his associates became the dominant owners, they reorganized the company, started a railroad and promoted a new town called Eddy, the name later changed to Carlsbad, where the irrigation company set up shop in the First National Bank Building of Eddy.