Inspire. Create. How does geospatial data help NPS?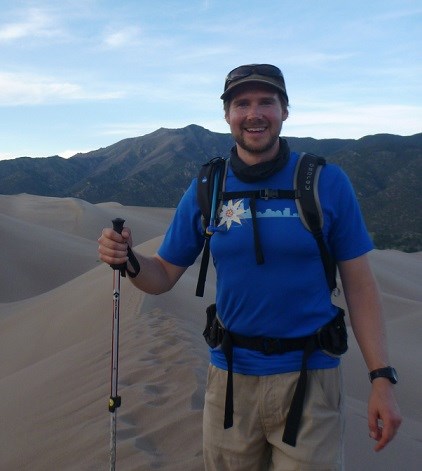 What is your name and job title?
Neal Jander, Geographer for the Denver Service Center Planning Division
What experience and education do you have?
I have a bachelor of science in environmental science and resource management from the University of Washington College of Environment. I am currently studying for my master's of arts in Applied Geography and Geospatial Science at the University of Colorado, Denver. I am also a returned Peace Corps volunteer and served in Puebla, Mexico from 2012 - 2014. Before that I worked for the Snoqualmie Tribe in Washington State as a habitat restoration specialist.
What is a typical day like?
You will often find me at my desk listening to lofi hip hop with some variation of a choropleth map up on my screen. I work on mapping and geographic information system (GIS) related aspects of a variety of planning projects from transportation to visitor use. I enjoy wrangling all kinds of data together and cleaning it up into a presentable format. Sometimes this involves creating web mapping applications and other times the result is a huge poster map for a workshop. I often receive maps or pdfs with scribbles all over them and then translate that into a clean final product.
What career advice would you give to someone who wants to follow a similar path?
I would encourage others to take the time to learn the underpinnings of GIS, database design, foundations for software programming such as learning Python but also find a way to tie it back to the real world. Find an area of interest in the environmental field whether that be wildlife management, stream ecology or maybe something very specific such as intertidal crustaceans. I find this helpful so that I can use the topic as a way to contextualize my learning in other areas.
What is one of the bigger projects you are working on and what about that project might surprise people?
I am working on a project for Devils Tower NM related to invasive plant treatment areas on the cliff walls of the tower. The tower presents an interesting challenge from a GIS perspective because the sides are so steep that trying to digitize treatment areas on a 2D map does not accurately reflect the detail of the project. To overcome this challenge, I am digitizing them in on top of a 3D model of the tower that was generated from a LiDAR scan and high-res aerial photos taken by the USGS. We are developing a workflow for this kind of 3D information capture so that the park can take this methodology and use it for future management activities.
Anything else you'd like to add?
For me, it is a privilege to work for an agency that is entrusted with managing of so many amazing places. It excites me to see the Park Service continue to innovate in areas such as visitor use and landscape scale conservation. I look forward to applying the tools I am learning to those kinds of projects in the future.
Last updated: September 15, 2017