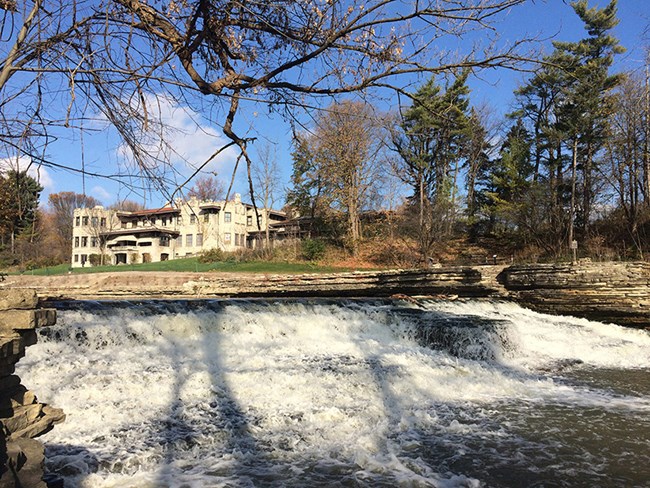 About ten miles west of downtown Detroit, set on rolling land above Michigan's Rouge River, is the Fair Lane National Historic Landmark (NHL). Fair Lane served as the country residence of Clara and Henry Ford from 1915 until their respective deaths in 1950 and 1947. The 356-acre district contains an imposing stone mansion and a number of equally impressive stone support buildings, all set within an idyllic landscape designed by the noted Chicago landscape architect Jens Jensen.

It is an oasis of green within an intensely urban environment. According to Robert E. Grese,
Director of the Matthaei Botanical Gardens and Nichols Arboretum at University of Michigan, and
Professor of Landscape Architecture, Jensen's landscape design for Fair Lane is the earliest and best example of his maturing style of estate design and one of his most complex.

[1]

This includes Jensen's stone masterpiece, a hydroelectric stone dam and its associated river bank rockwork. The construction reflects Jensen's status as the leader of Prairie style landscape architecture, a uniquely Midwestern design approach that grew out of strong conservation values and an appreciation of the natural heritage of the region. Today, in an interesting twist of perspective, Jensen's work presents a challenge to twenty-first century conservation goals to restore the natural heritage of the Rouge River.