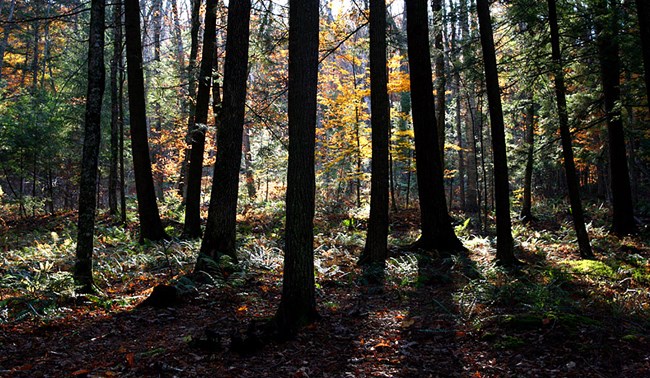 Forests offer many benefits
The forests of eastern national parks provide a scenic sanctuary for millions of visitors
each year. All forests, whether in national parks, preserves, or backyards also perform essential and free ecosystem services (provide oxygen, store carbon, shade watersheds, etc.), provide food and habitat to countless organisms, and generate significant economic benefits. A big difference between park forests and those beyond their boundaries is that forests in national parks are largely protected from logging – and have been in some cases for a century or longer. A study by the
NPS I&M Northeast Temperate Network
(NETN) took part in suggests that this protection status has led to important differences between forests in national parks and forests in surrounding areas that are both ecologically and regionally significant.
A first of its kind study
NETN long-term forest monitoring plots were part of a comprehensive study that looked at land-cover and forest vegetation data from about 25,000 permanent plots spread across 50 eastern national parks and six Inventory and Monitoring (I&M) networks to see how park forests compared to those of surrounding landscapes. Roughly 2,000 of the study plots were in I&M parks, while data from the additional 22,000+ were collected as part of the US Forest Service Forest Inventory and Analysis (USFS-FIA) program. This is the first study to compare forest structure in protected areas with surrounding forestlands over such a broad area of the United States, and is only possible because of the 10+ years of data that are now publicly available from the USFS-FIA and NPS I&M.