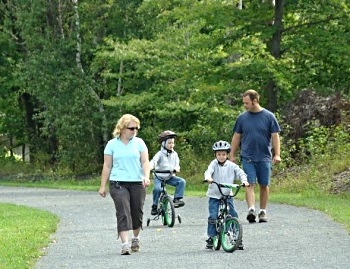 As we reflect on 30 years since the creation of the first National Heritage Area, let's celebrate the recreational opportunities provided to our heritage area communities. NHAs improve access to the cultural and natural resources they were designated to celebrate and protect. Granting access to recreational opportunities is important for public engagement and stewardship, which are essential to the mission of all NHAs. 
91 recreation projects undertaken.
322 miles of trails maintained and 29 new miles of trails developed.
45 recreation grants awarded in the amount of $671,116.
Many recreation projects in NHAs focus on the creation of multi-use hiking and biking trails such as those along the Illinois and Michigan Canal National Heritage Corridor.  Trails often take advantage of historic infrastructure - canals, industrial sites, and historic railways are points of intrigue for hikers, bikers, runners and walkers.