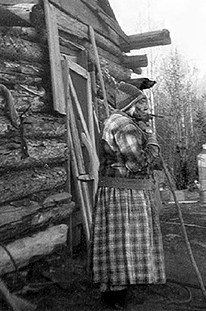 Voyageurs National Park is part of a historically dynamic region. This park covers 218,000 acres along the U.S. border with Canada east of International Falls, Minnesota. Within the park is a chain of four major lakes, which American Indians have used for 9,000 years. In historic times, fur trappers and traders lived along the major lakes as well.
Historically, the Chippewa (also called the Ojibwe or Ojibwa) were the main American Indian group who lived in what is now Voyageurs National Park. Using archeology, history, and oral history, researchers have started to understand the past of the Bois Forte people, the primary local Chippewa group.

Midwest Archeological Center archeologist Jeffrey Richner has led many projects inventorying archeological sites in the park. During these inventories, he discovered historic sites relating to the Bois Forte occupation dating to the late 19th century and early 20th century. Treaties from the mid-19th century were supposed to have restricted the Bois Forte people to life on a reservation away from park lands. This unexpected discovery encouraged Richner to investigate further. The results of this work provide a clearer picture of Bois Forte social structure, land use, and settlement in the park.