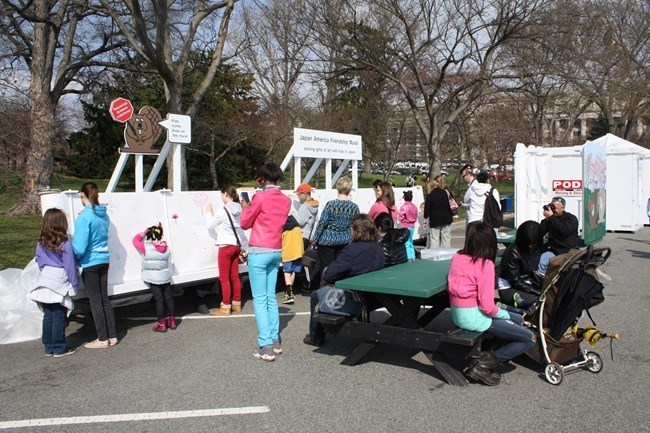 Each year at the Tidal Basin Welcome Area, the National Park Service displays a Japanese-American Friendship Mural. This activity invites all children to participate by leaving a message or drawing a picture celebrating the diversity of cultures.

The Friendship Mural is more meaningful and significant than many realize. One level of meaning is it is a way to say "thank you" to Japan for the gift of Japanese flowering cherry trees. Children at the cherry blossom festival draw pictures on the mural which are photographed and sent as gifts of friendship to the children of Japan, where they are displayed in the city of Mitaka. While many enjoy participating for this simple reason alone, it holds deeper meaning.

The Friendship Mural is not just a one way message of thanks. Children all over Japan are drawing pictures and sending them to us as gifts of friendship. All those drawings are pasted onto the mural here, and are also displayed in Mitaka, Japan. There is two-way cooperation and communication through images. Despite differences in language and culture, the children of both countries are working together to jointly create two corresponding murals. Rather than merely being told about the history of gift exchanges between the two nations (there have been continuing gift over the past century, including the stone lantern and stone pagoda), children are becoming a part of that history. The National Mall uses the slogan "where history happens." By adding their own art to be sent to Japan, children can say it is where they help make our nation's history.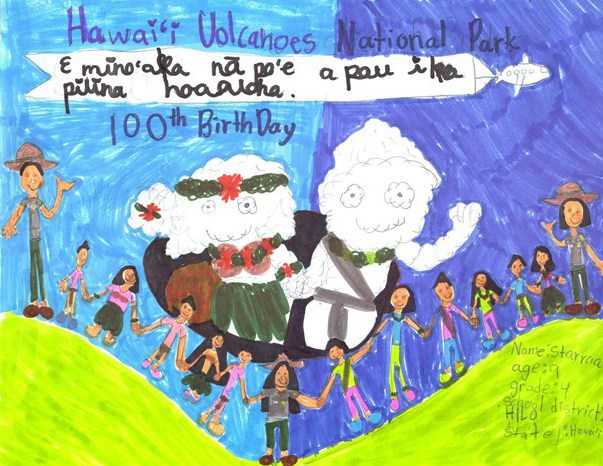 The children of Japan and the U.S. work together in friendship, despite cultural differences and misunderstandings. For example, many children represent friendship by drawing American and Japanese kids playing or standing together. Others may draw stereotypes they have of each other. They can learn from the images of each child's perspective. Children from different backgrounds throughout the United States submit art for the mural through their local national park, creating a quilt work of America's diverse cultures. Viewers can enjoy finding art from parks as diverse as Fort Smith National Historic Site in Arkansas, San Juan National Historic Site in Puerto Rico, Statue of Liberty National Monument, and Hawai'i Volcanoes National Park in Hawaii, among others, and of course, art from our friends in Japan.
The mural embodies meaningful cultural exchange – we can all work together in friendship and create something enduring. The Friendship Mural, like our nation, is more interesting, more fun, and more successful, not despite our differences, but because of our differences. The Japanese-American Friendship Mural celebrates the diversity of our nation and of our world, and proves we have the ability to all get along.
Last updated: March 12, 2018