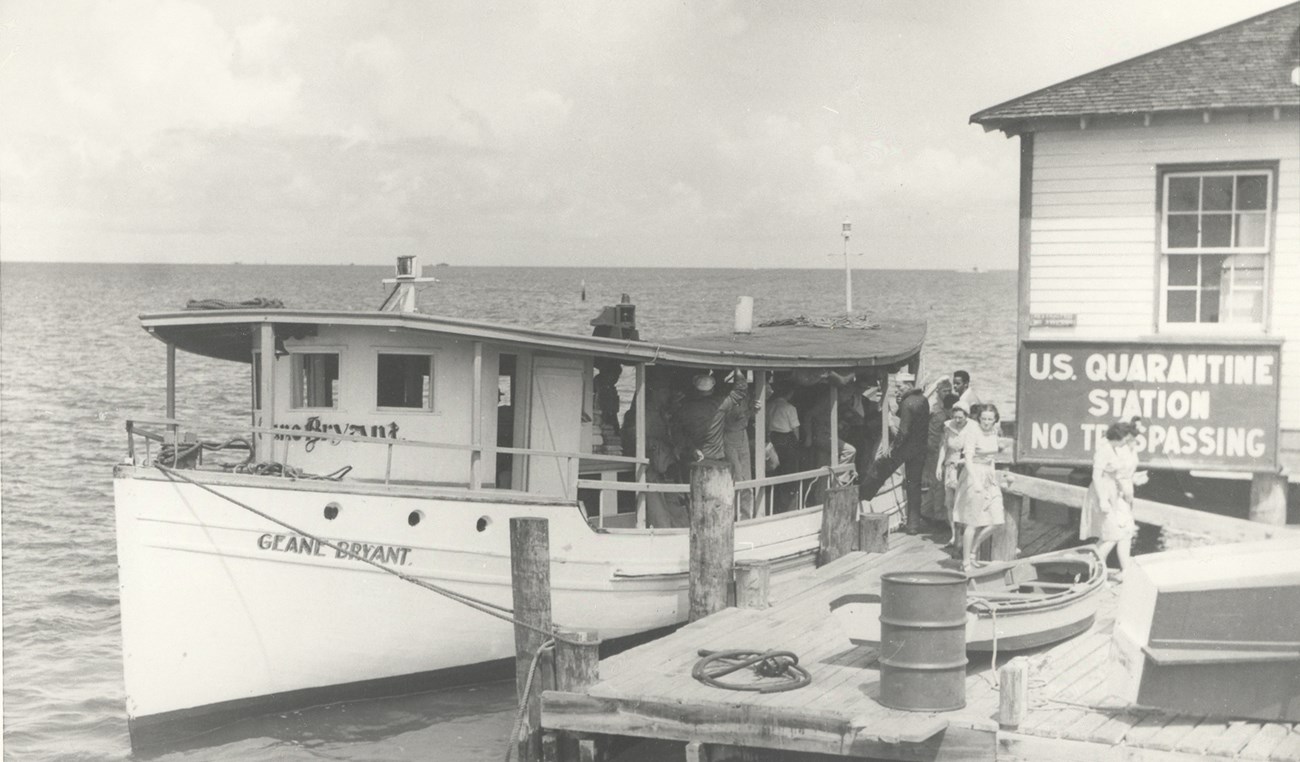 Port cities during the late 1800s and early 1900s were alive with activity. Global trade made these towns sickly places as travelers arrived after long trips at sea. To combat this, many sea-faring ports created quarantine rules for protection from disease. These rules placed ships and travelers into an isolated environment for a period of time, hoping that any illness would make itself known. The coastal towns of Mississippi were no exception. Many of the barrier islands were at one time quarantine stations.
Quarantine helped prevent sickness. In 1878, a yellow fever epidemic infected 100,000 people in Louisiana, Mississippi, and the Ohio River Valley. Of those, 20,000 people died. Yellow fever is a mosquito-borne disease from tropical areas. Ports in the Caribbean were particularly dangerous for disease outbreak. The American Medical Association claimed "the danger of the introduction of yellow fever from Havana being considered such that prompt and vigorous measures are deemed necessary…"
To prevent more outbreaks, Surgeon-General John M. Woodworth of the International Medical Congress advocated for national standards. Many states already had policies in place. Yet, disease continued to spread. Congress eventually regulated quarantine practices and provided help to state boards of health.
The ideal environment for a station is away from people. Ships docked away from town centers, where officials inspected them and cleaned to remove any sickness. Cleaning a ship required dumping its ballast, or counter-weight, overboard. Next, a chemical combination of mercury and sulfur gas soaked the decks to kill any sickness. If the ship passed inspection, it proceeded to the port to offload cargo.
Ship and Cat islands both served as quarantine stations during the late 1800s and early 1900s. Cat Island had no buildings to house sick sailors, and relied on the steam engine of the ship New York to operate its sanitation equipment. As such, the station frequently experienced periods of abandonment. Neighboring Ship Island was better suited to dealing with infected vessels.

In 1879, Ship Island housed America's first National Quarantine Station. The site protected the port cities in Mississippi and Louisiana, including New Orleans. At this station, inspectors examined crews for signs of disease. If cleared, a ship received a signed document declaring it safe to enter port. A marine hospital on the island treated ill sailors away from nearby cities. The station ceased actively serving as a quarantine area in 1916.