Assateague Island Movable Visitor Facilities
Fast Facts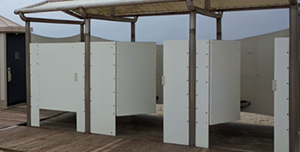 Location: Maryland & Virginia
PMIS#: 170817 (shelter) 201167 (showers); 
Compliance (PEPC ID): Categorical exclusion (46711)
Cost/fund source: ~$59,000 (shelter); ~$50,000 (shower unit)/fee revenue
Installation time: One day
Type of material/product used: Custom-built cabanas and shower units are made of welded stainless steel, a canvas top, and recycled plastic floors and walls
Contact information: Chief of Facilities, Assateague Island National Seashore, 410-641-1441
Background
Historically following storm events, beach and camping
facilities sustained wind and water damage. To reduce these impacts, facilities managers decided to transition to portable infrastructure that can be moved to a less vulnerable location with sufficient notice.
Description
These movable facilities currently include 4 changing
rooms (cabanas), 4 shower towers, 4 storage units for beach-accessible wheelchairs, 1 foul weather shelter, 3-5 lifeguard stations, and concessioner buildings. Some of these structures are built by outside companies, and some have been designed and constructed by park staff. Their dimensions and sturdy, stainless steel frame construction on wood pallets allow them to be transported in one piece, and they do not exceed any height, width, length, or weight restrictions for road transport.
Maintenance Needs
Maintenance activities are the same as built-inplace
structures.
Related Project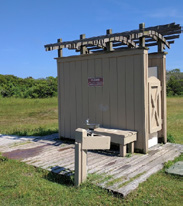 At Everglades National Park, a pilot project built movable and packable "eco-tents" where previous lodging had been destroyed by hurricanes (PMIS #: 186731).
A concessions prospectus is currently out, with the hope to make these an ongoing feature at Everglades. Gateway National Recreation Area has transitioned from fixed food service areas in flood zones to food trucks and mobile carts which can be moved out of harms way.
Last updated: January 19, 2017