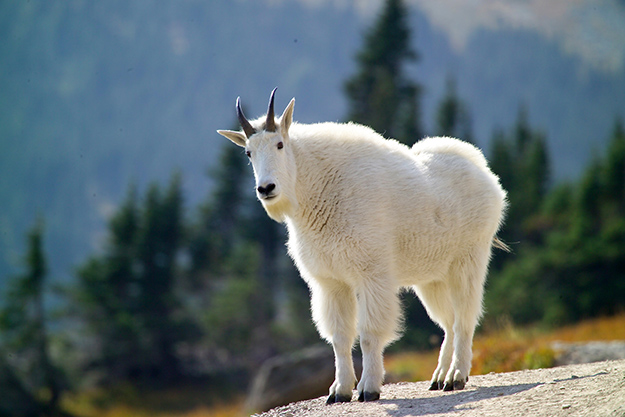 Threats
Mountain goats are commonly seen in Glacier National Park and it's estimated that the park has one of the largest populations of mountain goats in the lower 48 states. However, declining numbers in parts of the Crown of the Continent Ecosystem and pressures from climate change are causing concern for the health of this species. Like other alpine species, mountain goats are sensitive to habitat conditions. They rely on high, cool, rocky terrain for their survival. Glacier is currently experiencing warming three times the global average at higher elevations. It is uncertain how a warming climate will affect mountain goats, but the park is near the southern extent of the mountain goat's native range. Like any species at the edge of its range, Glacier's mountain goat population is likely to feel the effects of climate change earlier than populations further north.
One of Glacier National Park's iconic species, the mountain goat (Oreamnos americanus) is only found in the northern latitudes of North America, and is more closely related to serows and chamois from Eurasia than to domestic goats. Today, some mountain goat populations found in the United States have been introduced, but those found in Glacier are native to the landscape. Mountain goats primarily inhabit alpine and subalpine environments and are often found traversing nearly vertical cliff edges. They are exceptional climbers, using their large, muscular forequarters to climb up rocky ledges and steep slopes of 60 degrees or more. Their hooves are also helpful in maneuvering this difficult terrain. Mountain goats have cloven hooves, or a hoof split into two toes, which spread out when needed. This stability along with flexible, soft inner pads allows the goats to grip the rock walls and cliffs they inhabit.
Summer months provide abundant food for mountain goats including a variety of alpine flowers, grasses, and sedges. During the long winter months, the mountain goat's diet is more sparse. Wintering high on steep cliffs above snow line or in areas where little snow accumulates, mountain goats find exposed vegetation not eaten during the summer as well as shrubs and lichens. Although often treacherous, these steep cliffs not only provide food for the goats, but also offer protection from predators.