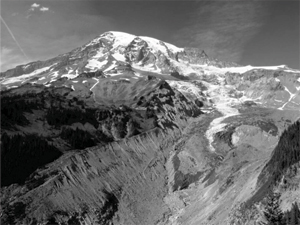 Since 1913, glacial retreat has exposed an area of 37.5 km2 (14.5 mi2) of Mount Rainier National Park lands. As a result, when a storm crosses the park, it washes the boulders, rocks and soils previously capped by the glaciers into the rivers and creek beds, filling them up. This process, called "aggradation," results in more frequent "avulsions," or overtopping, from rivers and creeks. Avulsions can also act like a fire hose targeted on one area of the river bank, causing erosion.
Problem is, the river banks at Mount Rainier hold up historic roads, including major passages for park visitors. The Nisqually Road, for example, is part of the Mount Rainier National Historic Landmark District, which includes the park's historic roads and infrastructure. Most of the park's 2 million visitors per year travel along the Nisqually Road to Paradise.
Because the historic roads are being increasingly damaged by flooding during storm events, the NPS is evaluating methods to repair the riverbanks supporting them. They aim to balance the look and feel of the historic landscape with engineering to keep the roads—and the people who drive on them—safe.