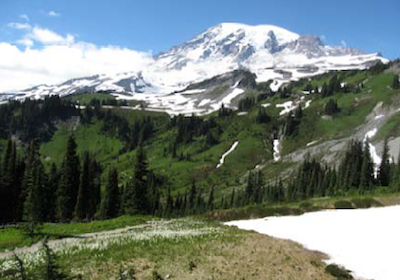 Importance
This research focuses on the impacts of atmospheric nitrogen deposition on the health of subalpine ecosystems. Subalpine ecosystems provide important resources for Mount Rainier National Park. They act as carbon sinks that slow the greenhouse effect and can absorb atmospheric pollutants that deposit in rain and snowfall. Additionally, they support a famous diversity of wildflowers that provides forage for wildlife and brings visitors to the Park (Fig. 1). However, these important resources may be diminishing due to increases in atmospheric nitrogen deposition.

Atmospheric nitrogen (N) deposition occurs when reactive N gases in the atmosphere fall out with precipitation or attach to airborne particles, like dust or pollen. Reactive N gases are released into the atmosphere by automobile or industrial emissions or by the volatilization of fertilizer applied to farmland. Although small amounts of N can improve plant growth, large amounts of N deposition has been to shown to saturate ecosystems (Aber et al., 1989). Saturation can cause N to leak out of alpine ecosystems, either through emissions of nitrous oxide (N2O), a potent greenhouse gas, or through leaching to watersheds as well as alter community composition in alpine meadows (Aber et al., 1989; Bowman and Steltzer). This leaching can cause pollution of mountain lakes and streams through acidification and algal growth, which negatively impact their quality for recreation and as drinking water (Williams and Tonnessen, 2000). Thus, increases in N deposition could have negative impacts for Mount Rainier and high-elevation ecosystems throughout the Cascades.

This research measured ambient N deposition rates and investigated how three subalpine vegetation communities respond to N deposition by their capacity to store or emit N. We measured how much N was stored in plant and soil microbial biomass compared to how much was lost through N2O emissions or N leaching to watersheds in each vegetation community. This study will help the National Park Service determine to what extent N deposition is causing damage to the ecosystems under their management.