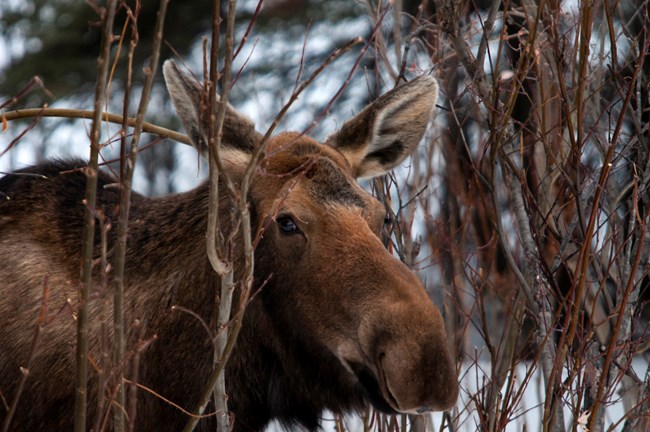 Missing Moose
With the largest moose population in the lower 48, the state of Maine has earned the reputation of being the best place to view moose in the wild. Every magnet, sticker, and t-shirt in every shop advertises their presence, and Acadia is not exempt from this trend. Therefore, when visitors to Acadia ask about the best places to see moose inside the park, they are rightly disappointed when they find out there are none to be found.
There are several reasons why there is no established population of moose in Acadia. First, the geography of Mount Desert Island (MDI), where the majority of Acadia is located, is not desirable to a moose. The only ways to access the island are to walk across the motor road bridge or to swim. While moose are proficient swimmers, they are deterred by strong currents and the island's mudflats. In addition, there are limited areas on the island in which moose would thrive, and because of their large size there would not be enough room to support a population. Ranger Dusty Warner, one of Acadia's veteran rangers, has only seen 3 live moose in the 20 years he has worked here. These moose were all transients; in other words, they had wandered over and did not stay on the island for very long. A visit to the Schoodic peninsula to the east may provide a slightly higher chance of seeing moose, simply because it is connected to the mainland. However, moose typically stay further inland and to the north, where the land is less interrupted by human activity. For those seriously interested in seeing a moose, a trip north to Katahdin Woods and Waters National Monument is your best option.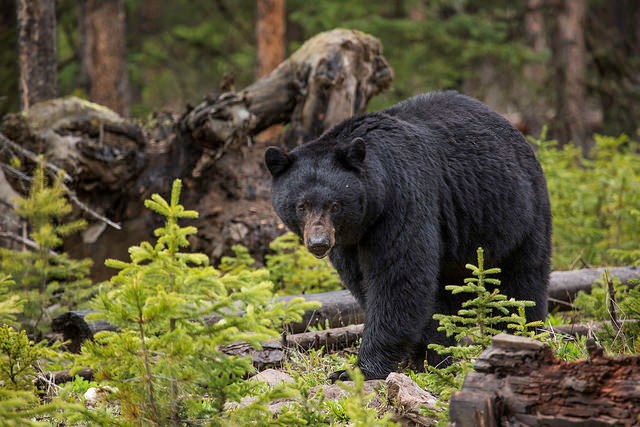 Bear-ly There
Another large mammal that visitors often inquire about are black bears. Unfortunately, the chances of seeing a black bear in Acadia are only slightly higher than seeing a moose. Unlike moose, there is a small permanent population of black bears on the island. Every year, there are scattered reports of black bears on Mount Desert Island. In 2020, one was seen walking on the park loop road in April before it was open to traffic, and later a mother and two cubs were spotted by the breakneck ponds at dawn. The park is abundant with some of black bears' preferred foods, including skunk cabbage in the spring and blueberries in the summer, and surrounding populated areas have garbage cans and bird feeders galore. Despite food sources which increase presence, it is still very unlikely to see a bear in Acadia. Female black bears require a territory of approximately 6-9 square miles, which means Acadia could at most support 4 breeding females year-round, given the amount of continuous forested areas. Black bears are also very shy animals and tend to stay far away from humans as often as they can. Even when raiding garbage cans and bird feeders, they tend to go under cover of darkness to avoid people. Finally, Acadia is a very dog-friendly national park, and many visitors bring their faithful companions with them. However, black bears associate dogs with humans, and will avoid interacting with dogs as often as possible.
So, while you will probably see neither a moose nor a black bear during your visit to Acadia National Park, keep your eyes open for other large mammals like deer and seals. And of course, if you do run into either a moose or a bear, be sure to observe from a safe distance! Acadia's Wildlife Viewing page gives excellent ideas in how to safely spot wildlife in Acadia National Park.