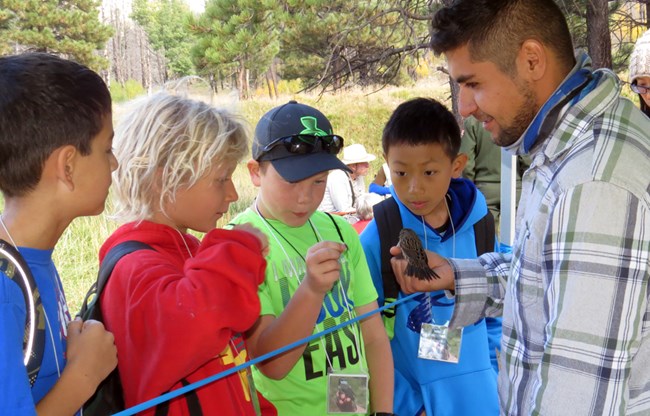 Introduction
The Southern Colorado Plateau Inventory and Monitoring Network (SCPN) monitors birds via point counts in places where plant communities are also monitored. This monitoring allows scientists to track bird numbers, diversity, and habitat relationships. However, point count monitoring is less able to identify reasons for observed changes in bird diversity or abundance. The Monitoring Avian Productivity and Survivorship program (MAPS) is complementary in that regard. It collects demographic data such as bird reproduction and survival rates. Such information helps managers understand what might be causing population trends detected by point count monitoring.
In 2010, Bandelier National Monument (NM) and Mesa Verde National Park (NP) implemented MAPS programs. Bandelier NM installed three MAPS stations in mixed conifer forests and Mesa Verde NP installed three in pinyon-juniper woodlands. Their goal was to detect changes in bird demographics and examine how climate conditions relate to the survival of recently fledged birds.
The project also has an educational component. Bandelier NM has entered into a cooperative agreement with The Nature Conservancy to recruit interns from Mexico and Spanish speaking Latin America. The interns will be housed at the park and undergo training in bird banding and identification. They then assist in the operation of the MAPS stations and in delivering educational programs about migratory birds for local school children in grades 4-8.